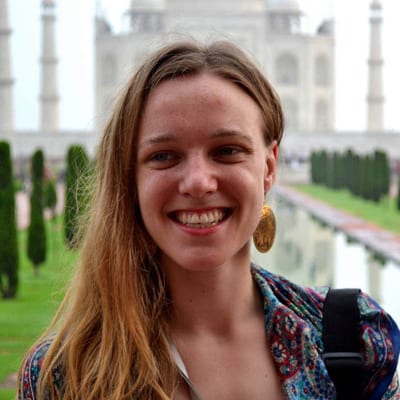 Aisling Byrne is a New Frontiers participant and the co-founder of startup Nu. – a platform that lets individuals take their wardrobe online so they can share and swap clothes with friends and other Nu. members.
Aisling has brought a wealth of active engagement in social ethics to her startup. In 2013, she was already involved in social politics via the Suas programme, when she went to India to teach English to 4 – 14 year olds living in severely disadvantaged conditions. This interest continued throughout her college years at Trinity College Dublin, were she had a high level of involvement with different charities and social causes, such as acting as Vice President in the St Vincent de Paul society, Vice President of Trinity VDP (a fundraising initiative for those in need), as well as picking up with Suas again in an educational development incubator programme.
Nu. is a platform founded on sharing economy values – it was set up in 2015 by Aisling and her co-founder, Alison (Ali) Kelly. The two met while they were taking part in Jailbreak, a global race in aid of Amnesty International and the St Vincent de Paul society. Now, as graduates, they have married their experience with their mutual love of fashion. They travelled together to India in the summer of 2013 and had the unique experience of meeting garment workers and hearing some of their experiences first hand. On their return to Ireland, the ladies saw their old wardrobes in a new light. They began to wonder about the true story behind their clothes: Who made them? What was the factory like? Where did the materials come from? They decided there was definitely a more sustainable way to look good! And so Nu. was born.
The business sprang from humble beginnings, when they set out to create an alternative model to the fast fashion industry that gives people a constantly changing wardrobe while being sustainable. Nu. believes in a world where looking good does not mean depriving an individual of their human dignity. They believe the latest trend should not cause irreparable harm to the earth. Fashion is about having fun, being creative and looking great. "Let's get rid of the rest," they say. Over the past 14 months, Nu. has been running successful monthly swap shops in Wigwam, Dublin, to test their theory that people would share clothes with strangers and pay to do so. They've now begun alpha testing their online clothes sharing platform with a Dublin and Cork trial, as well as a Trinity Ball specific trial. Over the next three years, Aisling and Ali hope to scale the clothes sharing economy platform globally and dramatically reduce the amount of textile waste reaching landfill.
Aisling is now taking Nu. to the next stage with the help of New Frontiers, Phase 2, and is currently working full-time on the project between DIT Grangegorman and IADT.