Drone Consultants Ireland wins European Satellite Navigation Competition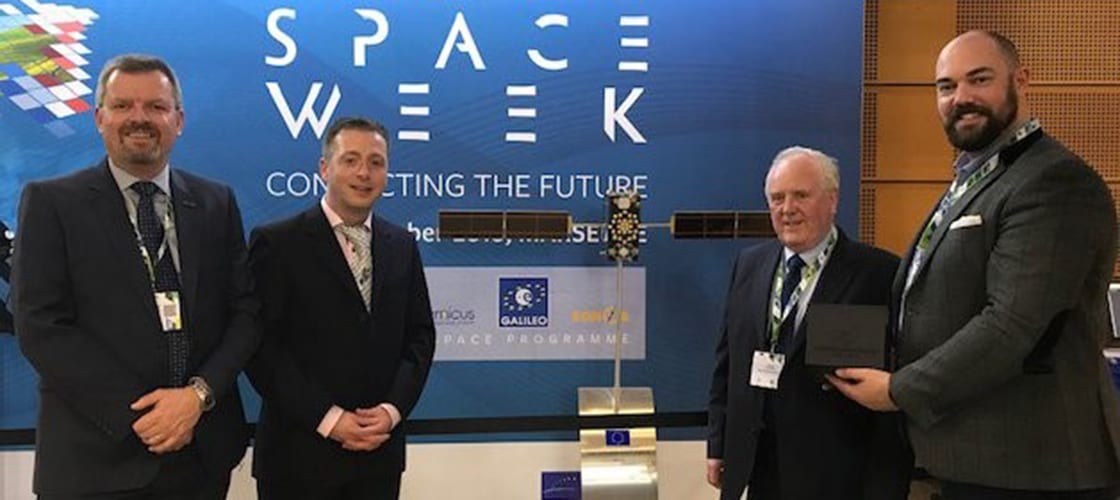 Bruce Hannah, (Irish National Space Centre), Ian Kiely, Peter Downey and Keith Tracey (Drone Consultants Ireland) at the Galileo Masters
A huge congratulations to New Frontiers participant, Ian Kiely, and his team at Drone Consultants Ireland on being announced as the winner of the 2018 European Satellite Navigation Competition (aka the 'Space Oscars').
A Media Cube (IADT) company, Drone Consultants Ireland offers a range of aerial solutions and develops UAV ideas for companies looking to improve efficiency and safety. The company also runs Drone & Tech Expo in the RDS.
The European finals of the competition took place in Marseille as part of European Space Week. Drone Consultants Ireland's entry, Jack in the Box,  is used for UAV Persistent Surveillance. Self-contained, tethered, and aircraft-deployable, the system provides real-time visual data and pinpoints locations to assist emergency services and disaster relief in remote or inaccessible areas. It monitors up to 300 square kilometres from a fixed position, with flight times up to 500 hours. It can also operate in adverse environments without risking lives.
Jack in the Box can provide reliable positioning data to support emergency services, environmental protection, government bodies, civil defence, and border control on land, at sea, and in remote locations. It offers benefits such as reliable real-time data, extended flight times, re-usable hardware, the ability to network multiple devices, variable payload options, and cost-efficiency compared to standard aircraft.
Congratulating Ian Kiely on winning the European Finals, Dr. Annie Doona, President of the Institute of Art, Design & Technology, Dún Laoghaire praised the winning submission:
"We were delighted when Ian Kiely, a New Frontiers DIT/IADT graduate company from the Media Cube, won the recent Ireland Regional Competition of the 2018 ESNC Awards. To win the overall European Award is a remarkable achievement. I would like to congratulate Ian Kiely and his team and thank him for his engagement with the staff and students at IADT."
Jessica Fuller, Head of the Directorate of Creativity, Innovation & Research at IADT commented:
"It is uplifting when a New Frontiers graduate flourishes on the programme and Ian's success is well deserved. "The real value comes from the mentoring and financial supports available through the Media Cube. We are always looking to support entrepreneurs and innovators with a thirst for international success. It's wonderful to see innovators like Drone Consultants Ireland being acknowledged and awarded for the risks they take. A considerable amount of effort and research made the Jack in the Box vision a reality. We look forward to working with Ian and Drone Consultants Ireland on future projects'.
The Media Cube works in partnership with Enterprise Ireland and the Local Enterprise Office in the Dún Laoghaire-Rathdown Council and beyond. It provides state-of-the-art facilities including office space, meeting rooms, boardroom and canteen facilities, serviced reception areas and of course the best sea views from its rooftop terrace!
Ann Marie Phelan, Enterprise & Innovation Manager at the Media Cube and New Frontiers Programme Manager in partnership with DIT Hothouse, works closely with client ventures to help them formulate and refine their proposition and navigate the investment options available to support the growth of their start-up. She is delighted with how well the company is doing:
"The success of Drone Consultants Ireland centres on the fact that they started from the premise of building their technology around the problems faced by the emergency services in dealing with natural disaster events. The technology was specifically tailored to address the problems of trying to properly survey inaccessible locations, the need to speedily determine whether there were injuries or fatalities and the need to identify the most efficient rescue route out of the disaster area. A classic example of responding to the pain points of those they wished to serve."