New Frontiers startup, Immersive VR Education, lists on Irish Stock Exchange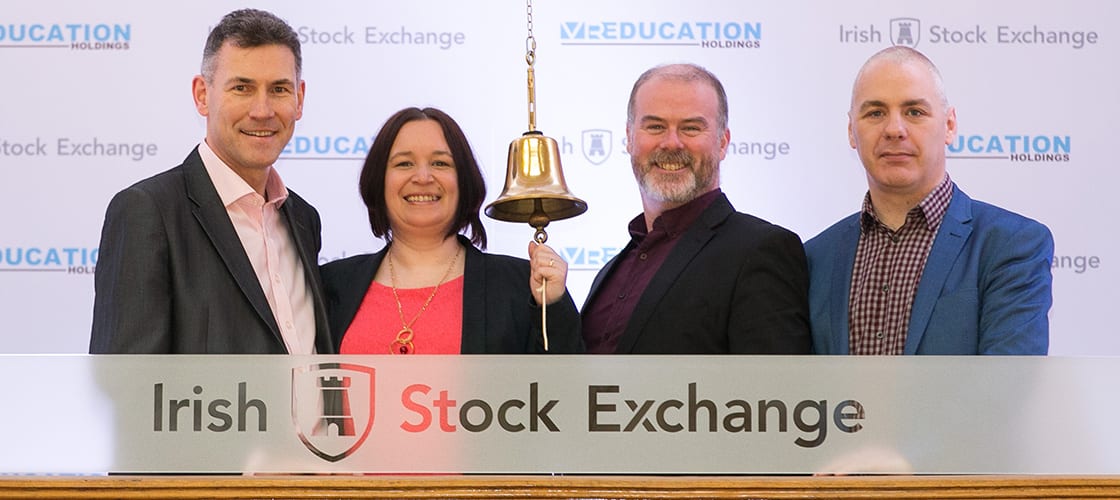 Former New Frontiers participant company, Immersive VR Education, was recently listed on the Irish Stock Exchange's Enterprise Securities Market. The Waterford-based technology firm raised €6.7 million before expenses through listings on Dublin's Enterprise Securities Market (ESM) and the AIM in London. The placing of 60,000,000 shares of 10p each implied a valuation of £19.3 million (around €21.6 million) on admission and the deal was oversubscribed.
Immersive VR Education is a virtual reality (VR) and augmented reality (AR) software company dedicated to transforming how educational content is delivered and consumed globally. Their virtual reality teaching platform for schools, universities and businesses allows people to create a virtual classroom to bring together teachers and learners from anywhere in the world.
The company was founded in October 2014 by husband and wife team, David and Sandra Whelan. David participated in the New Frontiers programme at Arc Labs (Waterford Institute of Technology's Research and Incubation Centre) in 2016 and recommends the programme to ambitious entrepreneurs involved in a start-up business. A WIT graduate, he believes the AR/VR market is growing and as hardware becomes more affordable, growth will gain further traction.
"We are at the forefront of this as a VR software and technology group operating in the niche education sector, we provide students, educators with a customisable learning environment.
New Frontiers is a place where you can shape your idea into a business with a group of peers and prepare your business plan for scrutiny from venture capitalists. It's been instrumental to establishing a solid base for our continued success and the contacts we made during the programme will of course always be useful for advice and guidance going forward."
The first New Frontiers participant company to list on the Irish Stock Exchange
Eugene Crehan, the New Frontiers Programme Manager at Waterford Institute of Technology, said:
"Immersive VR Holdings is a great example of how an innovative technology start-up can benefit from the business development skills workshops and mentor supports available as part of the New Frontiers programme. By being technically innovative and building a solid investor-ready business plan on the New Frontiers programme in WIT, Immersive VR Holdings secured investments at several stages of their development, culminating in an IPO within three years of being on New Frontiers."
Immersive VR Education's listing on the Irish Stock exchange celebrates a number of firsts:
it's the first IPO for an Irish tech firm on the Irish Stock Exchange's Enterprise Securities Market (ESM) since its inception in 2005
it's the first New Frontiers participant company to list on the Irish Stock Exchange
it's also the first technology firm in the southeast ever to list on the Irish Stock Exchange
Virtual and augmented technologies as an education tool
Immersive VR Education's free, award-winning platform, ENGAGE, allows educators and trainers to put together their own content in a virtual setting, inspiring students whether in a classroom, lecture theatre, operating theatre, or on the surface of Mars. The company has also won global accolades for its showcase experience, Apollo 11 VR. This multi-award winning educational experience is based on actual events and recreates the full Apollo 11 mission, using original NASA audio and mission data recorded during the 1969 moon landing. It has recently been announced that the Apollo 11 VR experience will feature as part of the launch collection for Oculus Go. In 2017, the company also launched an early release experience of the wreck of the Titanic.
The startup works with businesses and organisations such as Oculus, the BBC, HTC, the Royal College of Surgeons, and the University of Oxford. Post-IPO, the company is looking to establish ENGAGE as the world's leading digital education and corporate training platform.
[featured image: Sandra Whelan, co-founder of Immersive VR Education, rings the bell at the Irish Stock Exchange. (l-r) Eugene Crehan (Director of Programmes, CEDRE, WIT), Sandra Whelan, Ciaran Cullen (Manager, ArcLabs) and David Whelan (CEO and co-founder, Immersive VR Education). Credit: SON Photographic]