New Frontiers Showcase event: Cork (Rubicon Centre)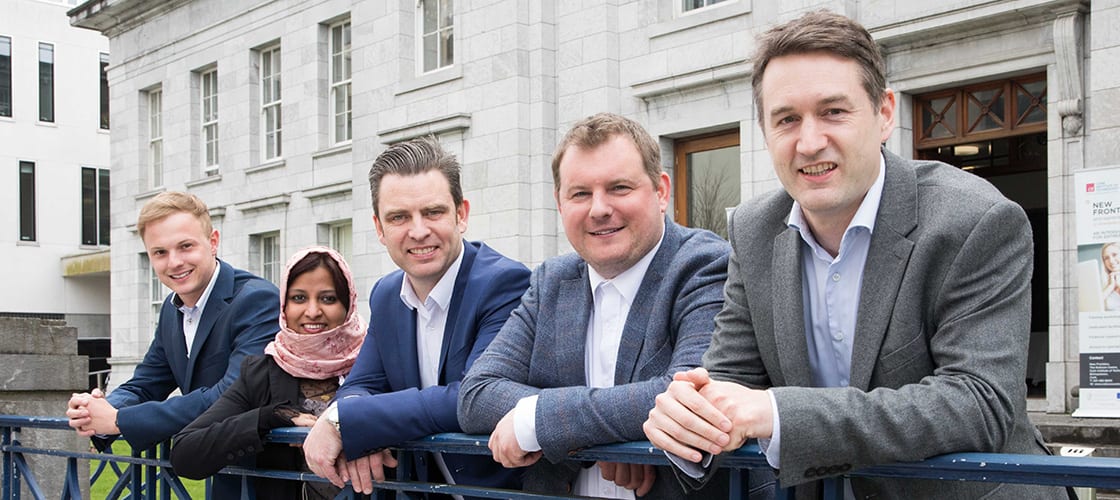 Showcase events are a significant milestone for New Frontiers participants. It's a chance to bring their startup to the attention of local business people, and potentially benefit from the added exposure that comes from winning one of the awards on offer.
The Rubicon Centre (Cork Institute of Technology) held its showcase on Tuesday, 24th April at the Millennium Hall, City Hall, Cork. Joining the 13 New Frontiers graduates were Deputy Lord Mayor of Cork, Cllr. Fergal Dennehy; Martin Corkery, Regional Director Enterprise Ireland; Dr Barry O'Connor, President of CIT; Liam Fitzgerald, New Frontiers Programme Manager, Rubicon Centre; and Maria Gavin, Programme Manager, Enterprise Ireland.
Also present were guest speaker, Tomás O'Leary (former Munster, Ireland and Grand Slam winning rugby player), and an expert panel made up of Orla Rimmington, Partner at Kernal Capital; Pat O'Flynn, CEO at Solvotrin Therapeutics; and Pat O'Connor, CEO at OrthoXel. The panel discussed startup themes such as raising finance, driving sales and the entrepreneurial journey. Senior leaders from business, academia and start-up support organisations in Cork and the broader region were in attendance, and members of the Taste Cork Network served up local artisan food.
"New Frontiers is unique in its national coverage with significant regional outreach as evidenced by CIT's New Frontiers Phase 2 Programme. I would like to congratulate the graduates on their commitment to the New Frontiers process which has seen many go on to develop award-winning businesses to match their global ambition and acknowledge their bravery in embarking upon the entrepreneurial journey. I am in no doubt that all will benefit from the comprehensive set of business development supports that the programme affords."

Maria Gavin, Programme Manager New Frontiers, Enterprise Ireland
Awards
Awards were presented for Best Business Opportunity and Overall Winner, Most Innovative Business Idea, Best Business Plan, Best Trade Stand and Best Video. Award winners were chosen by an independent panel of expert stakeholders from RDJ Solicitors, AIB, EY, The Irish Examiner and Cork Institute of Technology.
The winners were
Best Business Opportunity & Overall Winner: Joe Perrott – Remote Signals
Most Innovative Business Idea: Nusrat J M Sanghamitra – CyCa OncoSolutions
Best Business Plan: Kieran Gleeson – Freight Station
Best Trade Stand: Joseph Freyne – Swyft Energy
Best Video (panel): James Gale – StampOwl
Best Video (audience): Marie Therese Shortt – CulturePro
Guest speaker, Tomás O'Leary, former Munster, Ireland and Grand Slam winning rugby player, shared his experience in elite sport and how it applies to business. Tomás is co-founder of TOLD & CO, a designer watch brand. Tomás emphasized the role culture plays in professional sports teams. He explained that there is a direct link between fostering a team culture that expects high achievement, and success. This link is as relevant in business as it is in team sports.
"New Frontiers is the best programme of its kind in Ireland, with no equity taken in participant businesses. It gives businesses exposure to the full suite of supports available through Enterprise Ireland, including industry specialist mentors, market research resources, and international offices. It also acts as the most effective introduction to funding opportunities like the Competitive Start Fund and High Potential Start-up Funding. Participating on New Frontiers is likely to be the best strategic decision a business makes."

Liam Fitzgerald, New Frontiers Programme Manager
Class of 2018: profiles
Joseph Freyne – Swyft Energy
Swyft Energy is an online platform that streamlines boiler replacements for homeowners, saving them time, hassle and money! The platform gives customers full control over every aspect of a boiler replacement from video consultations, to flexible payment plans, warranties and aftersales service. The company was launched in late 2017 and is currently operating in Cork and Dublin
Vincent Forde – Gasgon Medical
Hospital systems are under pressure, now more than ever, with decreasing staff numbers and increasing patient numbers. Gasgon Medical is making a technology to support clinical staff in hospitals and home care environments globally through effective management of gas in fluids that can result in harm to patients. Our device reduces exposure to risks associated with air embolism during IV infusions.
Gasgon products will enable medical staff to divert their attention to more pressing tasks, safe in the knowledge that their patients are being protected. The result will be less risk, less waste and improved efficiency leading to more predictable workflows and budget planning across hospital or home care environments. With Gasgon products, all patients can be INFUSED WITH CONFIDENCE.
Kevin Corr – iLine Software Solutions
iLine Software Solutions offer an OEE (Overall Equipment Effectiveness) performance management software solution for production lines. Every year manufacturing companies lose millions of euros due to downtime on their productions lines. Our software solution enables these companies to save money by minimising downtime losses and other inefficiencies on their production lines. We automate the task of collecting data from the factory floor and our software presents actionable information in dashboards and reports in an intuitive way. iLine is the first fully model-based system of its kind. This means that our customers can implement our solution without incurring any software development costs. Typically our solution can be implemented without causing downtime on existing production lines. We offer the easiest to implement, easiest to use and lowest risk product on the market.
Marie Therese Shortt – CulturePro
CulturePro is the first online B2B cross-cultural training platform designed using next-generation technologies. CulturePro supports employees in real-time with customised, visual information, to improve employee communication in a fast growing, culturally diverse workforce. Developed in direct partnership with multinational companies it has been tailored to their needs to ensure employees are better prepared for intercultural communication at the office and during international business travels. CulturePro offers a personalised and gamified learning experience through its intuitive interface. Dr Marie Therese Shortt, a Norwegian/ Irish visual communicator and keen traveller, came up with the idea for CulturePro after completion of her PhD in the area of Visualising Intercultural Communication.
Conor O Sullivan – ARQ Asset Solutions
At ARQ, we are passionate about engineering asset reliability.  We believe that every asset owner, manager, and operator deserves to experience the certainty that true asset reliability can deliver.  Industries such as utilities/ power generation, manufacturing, and transport, rely on rotating machinery to produce product for the consumer, which in turn rely on good quality oil to operate reliably and continuously.  Modern oils, however, degrade quickly because of heat and contamination, which results in failures.  The cost to Irish industry alone is €1 billion annually in avoidable losses. ARQ consider the oil in a similar way to blood in the body and apply a low-cost continuous condition monitoring IOT system to allow asset owners monitor anything, anywhere, and at any time.
Aaron Collins – MySitter
MySitter finds professional childminders for your home. Childcare is a necessity for all working parents yet it remains one of the biggest contributors to stress, anxiety, and worry. MySitter finds, employs and insures the highest quality childcare professionals in Ireland. We adopt an in-depth vetting process which includes Garda Vetting, CV and reference checks. Our staff have childcare qualifications in Fetac Level 5/QQI or higher with at least three years of professional experience. We're hiring the top 100 childcare professionals in Ireland. Our mission is to revolutionise working conditions. We reward MySitter employees with salary increases of 22% compared to current preschool roles. MySitter employees have the opportunity to progress their childcare careers like never before.
Kieran Gleeson – Freight Station
Freight Station is a software as a service (SaaS) based platform for the road freight industry. Our aim is to connect freight forwarders, hauliers and their drivers on a single cloud-based platform. Our mission is to digitalise all business processes between these stakeholders. Our platform offers customers digitalised documentation and instant shipment notifications. Up to 25% of companies' time is wasted using out of date paper-based systems. By using Freight Station customers have real-time information on shipments and are more proactive in providing their own customers with better service. We have successfully solved two of the biggest problems in the industry, proof of delivery and tracking of shipments. This is a Brexit ready solution for an industry that is digitalising now.
Martin O' Flynn – PeakSoft
Every individual and every company has things they want to be, do or have.  Yet according to the 'University of Scranton' 92% fail to achieve their goals.  PeakSoft addresses this issue with a software service that systematizes goal attainment.  It helps individuals to figure out what they want, why they want it, how to get it and to do what is necessary to achieve it. It is the ultimate planning and organization software that helps users to become more efficient with their time and more effective with their actions. The B2B version targets SME's with advanced project management and performance tracking features.  It maximizes synergies between cross-functional teams to achieve corporate goals.
Nusrat J M Sanghamitra – CyCa OncoSolutions
Biomolecular nanomachines for programmed drug delivery! Cancer drugs are toxic and we all know how chemotherapy makes patients very sick during the healing process. CyCa OncoSolutions has developed a biomolecular nanomachine as a high speed, high precision drug delivery device. Our device works like a molecular drilling machine and carries drugs across the cell membrane as you carry your luggage through automatic doors. It is like molecular FedEx for drugs. FedEx delivers your parcels at your doorstep and our device delivers drugs precisely at its cellular target site with 1/10th dose. This will improve the quality of life of fifteen million cancer patients worldwide, advance the global fight against cancer and reduce the public health burden.
Joe Perrott – Remote Signals
Remote Signals enables businesses to easily obtain operating data from remote assets using their Internet of Things (IoT) hardware and software platform. These assets can be varied, for example current applications include temperature of cold chain refrigeration stores, operating parameters of industrial machinery, farm soil conditions, etc. Our hardware platform represents the world's easiest way to connect remote assets; our cloud computing platform makes those assets 'smart'. This combination of 'connected' and 'smart' opens up previously untapped revenue opportunities and benefits for the assets' owners. The Remote Signals platform is live, and being used all around Ireland and parts of the EU today.
David Casey – Lumin House
Behind the Lumin House brand, we are a team of passionate professional photographers, dedicated to our craft and the search for innovative ways to make life that little bit easier. Our product is a beautiful, online photo storage system that becomes the gallery of a lifetime for a photographer's clients. We put the photographer first, not just in generating extra income through our unique commission-based revenue system, but also, moving the responsibility of long-term image storage to the client. We are dedicated to providing your clients with a beautiful, safe and convenient way to store and show off their pictures to friends and family, wherever and whenever they want to.
James Gale – StampOwl
StampOwl is an app for your phone that allows you to send real, physical Postcards from your smartphone in 3 easy steps! StampOwl also provides businesses with a unique marketing opportunity. Businesses now have the opportunity to utilise a customer's network of close friends and family to advertise their products/services by means of recommendations. When a customer is in the geographical location of one of StampOwl's Business clients, they receive a push notification inviting them to send a free Postcard. The Postcard arrives containing an advertising banner along the bottom, designed by the business. This unique solution can help a business expand its customer base and directly increase sales. Get 50% off your first Postcard now. Just download StampOwl from the App Store or Google Play store and enter the coupon code "SAVE50" at the checkout. Offer available while stocks last!
Darragh Enright – MerchKitty
Live music is a globally growing market, and selling concert tickets and merchandise is a cornerstone activity for many musicians. The "merch stand" is a familiar staple of most live events, and a chance for newly-minted and established fans to bring home a t-shirt or recording as a memento of a great night out. MerchKitty is a smartphone-friendly SaaS platform that empowers musicians to make more from their merch stand and increase their merchandising revenue. MerchKitty allows musicians to accept simple and secure digital payments for point-of-sale and preorder sales, build relationships with fans, automate inventory management, and gain data-driven insights into their touring and merchandising business.
If you're interested in applying to the New Frontiers programme, you can express your interest here. Or find out more about what's on offer at the Rubicon Centre.