Drone Consultants Ireland (DCI) wins regional competition of ESNC 2018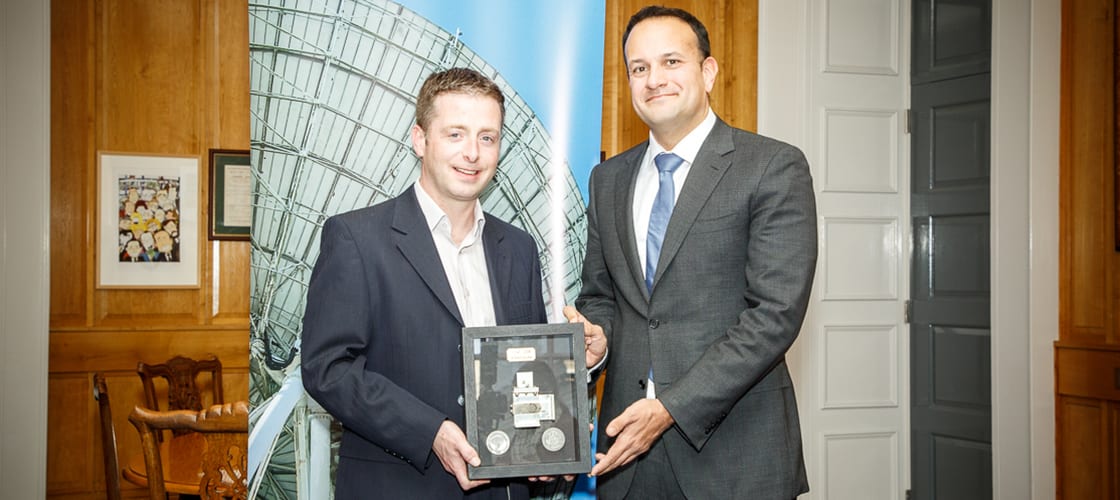 Drone Consultants Ireland (DCI) was announced by An Taoiseach, Leo Varadkar, as the winner of the Ireland Regional Competition of the 2018 European Satellite Navigation Competition (ESNC) awards.
DCI won the regional competition with its Jack-In-The-Box concept and will represent Ireland as they proceed to the European Finals which take place in Marseille at the 'Space Oscars' during European Space Week on the 4th December 2018.
Jack-In-The-Box is a self-sustaining, aircraft-deployable drone system that can be parachuted to remote and inaccessible locations, enabling it to gather critical data where natural disasters occur. This technology has the potential to assist rescue services in saving lives and calculating the safe and efficient deployment of resources.
DCI is based at the Media Cube in Dún Laoghaire Institute of Art, Design & Technology (IADT). The company was founded in 2016 by Ian Kiely and Peter Downey to provide consultancy and support to a variety of emergency response services, government entities and private clients as well as organising and hosting the Drone & Tech Expo Ireland. Ian Kiely is a recent alumnus of Phase 2 of the New Frontiers programme at IADT.
Receiving the award, DCI's COO Ian Kiely said,
"We are really excited to receive this award and are also looking forward to attending Space Week in Marseille in December to compete for the top awards. We believe this product has significant potential and we are working to bring it to market. DCI is a growing company and we are looking at partnerships and preparing for funding in the immediate future to launch a successful commercial product. We are grateful to the New Frontiers programme and for the ongoing support from Enterprise Ireland and The Media Cube at the Institute of Art, Design and Technology (IADT) in Dún Laoghaire where we are currently based."
Bruce Hannah, CTO of the National Space Centre and head of the Irish judging panel said,
"The Jack-In-The-Box entry from DCI demonstrates the potential which satellite navigation data holds to deliver life-saving new technologies to the world stage. The DCI entry leverages existing technology alongside innovation with exponential potential. We wish Ian and his team every success in Marseille."
Annie Doona, President of IADT, praised DCI for their commitment to research and development,
"Innovative companies like DCI make more than a commercial impact – their technology has the potential to save lives in the aftermath of a vast array of natural disasters. Through their risk-taking and tenacity, we all stand to benefit and we wish them every success in the finals of the ESNC competition."
For further information, contact Ann Marie Phelan, Enterprise & Innovation manager at the Media Cube, IADT: annmarie.phelan @ iadt.ie / 086 701 5922.