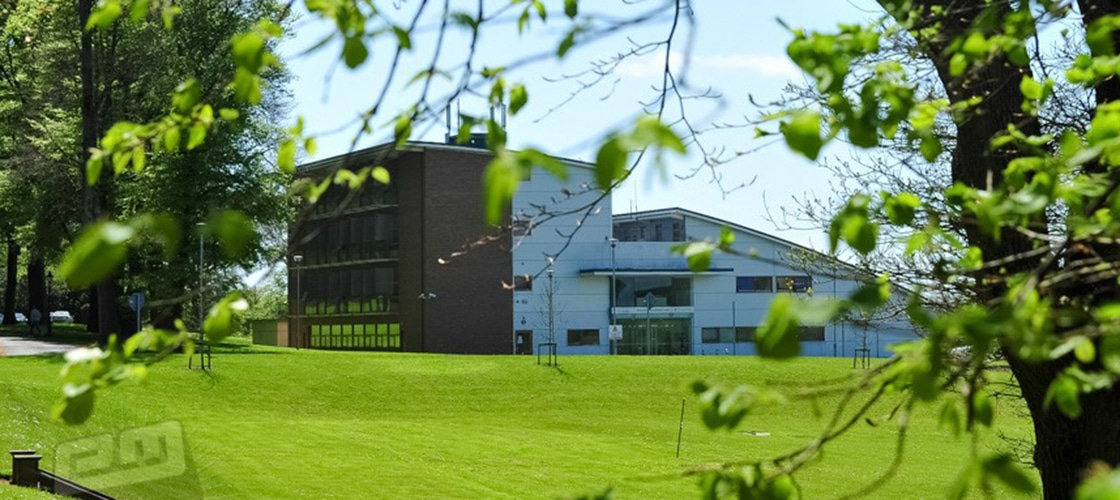 The sunny southeast isn't just an idyllic holiday spot, it's also an ideal place to live and work. Waterford – the country's oldest city – has been voted the "best place to live in Ireland" and also boasts a vibrant network of business support agencies and organisations. The newly formed South East Technological University (SETU) delivers the New Frontiers programme at campuses in Waterford and Carlow.

Today, we're catching up with the New Frontiers Programme Manager at Waterford, Dr Eugene Crehan. He oversees all programmes at the Centre for Enterprise Development & Regional Economy (CEDRE) at South East Technological University (SETU), formerly Waterford Institute of Technology.
New Frontiers Waterford past participants include the CEOs of Engage XR (the first New Frontiers startup to become publicly listed), Taoglas, NearForm, Stitcher Ads, Sonru, Scurri, Open Back, Powerscourt Distillery, CMC Hygea, MotoKlik, PlantQuest, Tailr, and Flexiwage.
Eugene, tell us a bit about your background and your role as Director of Programmes at CEDRE.
My background is in international business development with AT Cross Pens, Baileys Irish Cream, and Waterford Crystal. I have lived in the USA and Dubai and have conducted business in over 50 international markets. I have been with WIT, now South East Technological University (SETU), since 2003 in various roles that support entrepreneurs.
In my role as Director of Programmes at the SETU Centre for Enterprise Development and Regional Economy (CEDRE), I managed the South East Enterprise Platform Programme (SEEPP), The Female Entrepreneurs Ireland & Wales project (FEIW), the Enterprise Start programme, and the Post Graduate Diploma in Enterprise Development (which was delivered to innovation and enterprise centre managers in Ireland).
I'm embedded in enterprise and entrepreneurship activities right across the SETU Waterford campus through my involvement with ArcLabs Innovation Hub, Growth Hub (HCI-funded student entrepreneurship programme), student enterprise initiatives and competitions (as a mentor), and research in areas of entrepreneurship. Outside of SETU, I'm involved with Kinetic Labs Waterford and the Enterprise Europe Network, and I Chair the national New Frontiers Programme Managers Forum.
I'm passionate about business and entrepreneurship development. In 2018, I completed doctoral research looking at the impact of investment in early-stage businesses and how it helps them to develop competitive advantages to grow their businesses. This research is highly relevant to the work I do supporting early-stage businesses on the New Frontiers programme at SETU.
It sounds like Waterford has a really strong offer for startup founders (or promoters, as we call them in the startup ecosystem). Give us some insight into what they can expect on your programme.
The SETU Waterford New Frontiers programme helps start-up promoters to make the transition from employment to entrepreneurship. We give them the skills to investigate their market opportunity, quantify it, and then craft a customer value proposition that is relevant to, and understood by, the target market. A key objective of New Frontiers is that the business has an investment-ready business plan at the end of Phase 2 of the programme. Basically, New Frontiers helps to reduce the fledgling start-up's risks and dramatically increase their chances of success.
Our New Frontiers programme is located in the ArcLabs Research and Incubation Centre on the grounds of the SETU West Campus in Waterford and has direct access to the SETU Arena (open to the public) and the Waterford Greenway. ArcLabs is a purpose-built, fully serviced facility providing incubation and commercial space dedicated to the growth of young knowledge-based companies.
Many of the micro-enterprises and SMEs based in the ArcLabs have "graduated" from New Frontiers. Programme participants can meet and learn from more experienced entrepreneurs (tenant companies) in ArcLabs on an informal basis in the ArcLabs Café and increase their networks through these new connections as well as through New Frontiers alumni who regularly come in to share their startup experiences with participants.
We offer New Frontiers participants practical, interactive workshops, personalised mentorship, and free co-working space in the ArcLabs Innovation Hub. As the New Frontiers Programme Manager, I leverage my international business knowledge and years of experience working with early-stage businesses to help promoters navigate the challenges of planning and launching an innovative high-potential startup business.
In addition to being their mentor, I see myself acting as a regional knowledge broker – connecting New Frontiers participants with other appropriate entrepreneurship supports in the eco-system. This could be from the various research groups at SETU in Waterford and Carlow, the regional investment community, successful former New Frontiers participants (who remain in contact with us), and even SETU students who may become prospective employees. I work closely with Enterprise Ireland, southeast Local Enterprise Offices, the Southeast BIC, Leader Partnership groups, and the Southeast Development Office.
I have worked very closely with the New Frontiers team in Carlow since 2011. We support each other's programmes, meet and advise each-other's participants on our programmes across all SETU campuses, and arrange meet-ups for our respective participants. The commencement dates for our programmes in Waterford and Carlow are staggered in a manner that gives prospective entrepreneurs multiple opportunities to join New Frontiers across the southeast region.
A key feature of New Frontiers is that it is delivered by the technological universities and the institutes of technology. This proximity to knowledge providers has benefited countless startups on New Frontiers. Tell us more about the academic, research, and innovation side of your programme.
New Frontiers participants have access to the SETU School of Business in Waterford (which has managed the New Frontiers programme since 2011 and other start-up programmes since 1999). New Frontiers participant companies regularly take talented SETU Waterford students on work placements. I facilitate invitations for New Frontiers alumni to share their real-life business experiences with both under-graduate and post-graduate classes. In addition, Masters students have worked in teams on live enterprise challenges faced by New Frontiers businesses. Depending on the stage of product development, participants may benefit from introductions to SETU research centres.
SETU has been recognised as an outstanding performer nationally and internationally by Knowledge Transfer Ireland, securing multiple awards. This puts SETU in a unique position to offer research-based expertise to regionally based businesses via its three Enterprise Ireland Technology Gateways: Walton Institute, SEAM, and PMBRC.
Walton Institute is an internationally recognised centre of excellence for ICT research and innovation. It has a proven track record translating world-class research into market-ready products and services and has established an ecosystem of mobile service companies.
Pharmaceutical & Molecular Biotechnology Research Centre (PMBRC) is an award-winning research centre that conducts multidisciplinary research across three schools of SETU (Science & Computing, Health Sciences, and Engineering) in areas such as drug delivery, pharmaceutical characterisation, molecular biology, sensor technologies, and biomedical science.
South Eastern Applied Materials Research Centre (SEAM) is an industry focused applied research centre, providing innovative materials engineering solutions for companies from a wide range of sectors, including bio-medical devices, pharmaceuticals, micro-electronics, precision engineering, and industrial technologies
In addition, the Nutrition Research Centre Ireland (NRCI) is a multi-disciplinary research group within SETU that studies the role of nutrition and lifestyle for human wellbeing. The NRCI enables scientists to conduct research across a diverse range of human health-related disciplines including biotechnology, eye health, cognition, biochemistry, cancer, and mental health.
RIKON is a hybrid centre of innovation in business technology management, based in the School of Business at SETU Waterford. RIKON's BizTech strategists specialise in solving business problems and creating commercial opportunities through pioneering research advancements across business strategy, innovation, design, operational excellence, and technology optimisation.
What does the future of Waterford's New Frontiers programme look like?
In 2021, SETU secured €3 million in funding from Enterprise Ireland to deliver New Frontiers on its two main campuses of Waterford and Carlow. This funding will support emerging technologies such as fintech, blockchain, Internet of Things (IoT), machine learning, and smart agriculture. In collaboration with SETU Carlow, SETU Waterford will work with over 400 early-stage entrepreneurs over the 2021-2026 funding period. This includes 95 high-potential entrepreneurs who are eligible to receive the tax-free stipend of €15,000* that is given to each participant on Phase 2 of the New Frontiers Phase 2 programme.
*Past funding may affect your participation on New Frontiers/eligibility to receive the stipend, see more in our FAQs.

I highlighted some of your alumni at the top of this interview. The Waterford programme has been very successful over the years, how would you sum up the impact you've had on recent participants?
We had 48 Phase 2 participants between 2016 and 2020. Collectively, these promoters secured follow-on funding of €19.8 million, which is 13.2 times the cost of running the programme.
We survey participants about their achievements. For the period 2016-2020, they have reported:
88 jobs created
€4.1 million in sales achieved, of which €1.2 million were export sales
22 (46%) Phase 2 participants received Local Enterprise Office funding
9 (19%) Phase 2 participants received Completive Start Funding (CSF)
3 (6%) Phase 2 participants joined the southeast accelerator, NDRC @ ArcLabs
3 (6%) Phase 2 participants received Enterprise Ireland High Potential Startup (HPSU) funding (approximately €450,000) plus private investment of €2.3 million
Some particularly successful companies are Engage XR, which raised €6.7 million through listings on Dublin's Enterprise Securities Market (ESM) and the AIM in London with an implied a valuation of around €21.6 million, and OmniSpirant, which received €9.4 million in the Disruptive Technologies Fund 2020.
There was also the WIT spin-out, OcuDel, which came onto New Frontiers Phase 2 and later secured €560,000 in collaboration with WIT for the Enterprise Ireland Commercalisaton Fund for a human health study. Four companies have secured private investment matched by Enterprise Ireland's HPSU division: MotoKlik – led by Jens Kopke, PlantQuest – led by Ger Carton, Tailr – led by Shana Chu, and Flexiwage – led by Anthony Cronin.

(For more evidence that Waterford punches above its entrepreneurial weight, check out pages 10 and 11 of this edition of Waterford Chamber's Network, Issue 20, Q3 2022. Five of the six businesses featured completed New Frontiers at SETU and the sixth is a tenant of ArcLabs.)
Finally, tell us a bit more about Waterford and the southeast region. Why do you think it's so attractive for startup entrepreneurs?
The southeast region is experiencing significant change. The Waterford catchment area is the largest regional population in Ireland, and we're seeing rapid population growth (doubling by 2040). In the city or in the countryside, quality of life is high with short commute times, affordable homes, cultural events, and proximity to breath-taking mountains and beautiful clean beaches.
Economically, we're diversifying in response to national, European (post-Brexit), and global environments, as well as a changing demographic profile. There's a strong presence of knowledge-based industry such as advanced manufacturing, biopharma, fintech, ICT, tourism, and agtech.
Waterford is a fantastic base for any business. Come for the natural amenities, stay for the connected and walkable city, the world-leading tourist attractions, and the internationally recognised research and innovation capabilities.
Waterford is currently recruiting for its next intake of Phase 2 promoters (deadline 17th November!). If you're not ready to apply now, our provisional 2023 calendar will be available soon and you can register your interest (for any programme) in the meantime.
About the author
Scarlet Bierman
Scarlet Bierman is a content consultant, commissioned by Enterprise Ireland to fulfil the role of Editor of the New Frontiers website. She is an expert in designing and executing ethical marketing strategies and passionate about helping businesses to develop a quality online presence.