The buzz around automation is only intensifying as companies continue to discover new ways technology can make businesses smarter and more efficient. The human element of work is evolving as we get better at using technology to our advantage, allowing us to give more time to the areas that need our attention the most. In fact, our relationship with technology has become so symbiotic that leading tech entrepreneur Elon Musk believes we are already cyborgs!
The definition of a cyborg accord to Oxford Dictionaries is:
"A fictional or hypothetical person whose physical abilities are extended beyond normal human limitations by mechanical elements built into the body."
Your smartphone may not be directly wired up to your brain just yet (watch this space, Musk is working on 'neural lace') but as he explains, "You can answer any question, you can video conference with anyone, anywhere. You can send messages to millions of people instantly. Just do incredible things." The question is, are you ready to embrace your inner cyborg? If you are then you'll find you can easily automate tedious work tasks with your not-so-secret superpower – technology.
5 ways to automate tasks in your company
1. Clean up your inbox!
We might as well start with the bane of your working life – your inbox! The emails never stop coming, and god forbid you should go on holiday because when you return you're going to have to spend a whole day tunnelling through that backlog! The average worker receives 121 emails a day and sends 40, so how can automation help?
Most email platforms, such as Gmail and Outlook, have inbuilt automation tools so you can easily categorise emails by importance. Smart Labels in Gmail or Rules in Outlook allow you to automatically sort your incoming emails based on the sender's details or keywords. Both email platforms allow you to schedule emails to be delivered at a specific time. You can do this in Outlook by clicking the more options arrow in the 'Tags' section of your email or use the plugin Boomerang for Gmail. You can also design email templates for messages you find yourself sending repetitively to save time and avoid errors.
2. Start using voice-to-text software
Sometimes it's the simplest pieces of technology that can save the most time at work. No one marvels at the wonders of a calculator anymore, but it is one the handiest pieces of office equipment! This is the kind of automation we need in other areas of our working life, a solution that completes a task quickly and precisely every time. Voice-to-text software is just that. Dictation solutions have come on leaps and bounds in recent years and for anyone who finds themselves writing at length on a daily basis, this is a must! If you're looking for a free version, GoogleDocs Voice Typing is a great choice.
3. Be an automation whizz with Zapier or IFTTT
If you're serious about automating tasks at work, then you probably have heard about IFTTT and Zapier before. Both applications allow you to sync various solutions so that you can have your Gmail talking to your Dropbox account, or your Twitter triggering messages in your preferred Slack channel. These platforms perform by letting you design rules that in practice look like this: if X occurs then Y must happen.
X could be your company name being tagged on Twitter and Y could be the notification of this in a Slack channel. This one would be very handy for the marketing department, but there are useful rule combinations for everyone in the office. If you're not sure what you need automated, that's not a problem – take a look at their library of predesigned rules and find out what's popular with other users.
4. Get real financial insights with Xero or Bullet
Human error is inevitable, but you don't want it to happen in your financial accounts. Accounting solutions such as Xero and Bullet (an Irish company) can help you automate repetitive tasks while also providing business intelligence that would otherwise get lost! They enable you to automate payroll, invoicing, expense claims, approval processes, payments, and reports. If your bank allows live feeds, reconciliation becomes a breeze.
Knowing which of these is best for you will depend on your needs, but they both have time-saving features the overworked entrepreneur will appreciate. Bullet, for instance, does automatic mileage calculations and can post Revenue returns directly to ROS. Xero is powerful for growing startups because of the hundreds of other systems it can connect to – stock control, POS, project management, booking, time tracking, CRM, and other business tools. These are cloud accounting solutions, which means everything is safely backed up and encrypted in the cloud, allowing you to always have access to what you need, when you need it.
5. Automation for customer relationship management
Customer relationship management (CRM) software is the go-to for businesses that have a lot of customers to manage and want to design an effective sales pipeline personalised to each individual. With CRM tools you can automate many different aspects of your company's communication with your customers, such as the initial "Welcome" email, follow up emails, automatic reminders that a subscription is coming to an end and automatic updates to customer profiles and calendars. With customer-centric automation such as this, you can nurture long-lasting customer relationships, boost your brand reputation and capture more leads.
Automation results in higher productivity, reduced operating costs, streamlined processes and the protection of your competitive edge. What's not to like? Beep-bop-boop, cyborgs are go!
About the author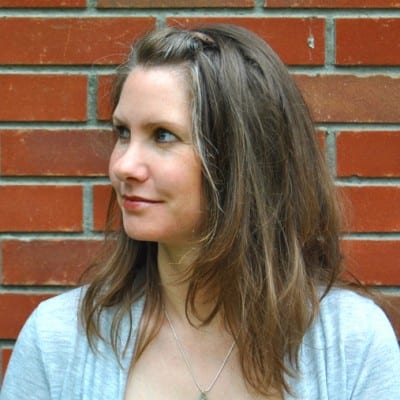 Scarlet Bierman is a content consultant, commissioned by Enterprise Ireland to fulfil the role of Editor of the New Frontiers website. She is an expert in designing and executing ethical marketing strategies and passionate about helping businesses to develop a quality online presence… [Read Scarlet's profile]