Featured startup: Dublin Design Studio (Scriba)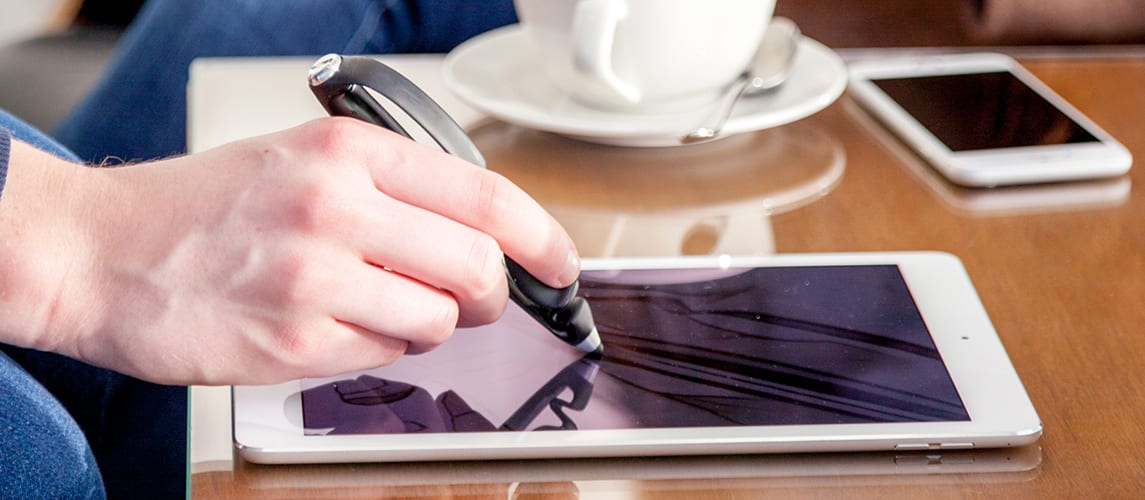 David Craig is the founder of Dublin Design Studio and inventor of Scriba, a new generation of stylus for mobile devices. David wrote an article for New Frontiers over two years ago, recalling his journey through the early-stage development of Scriba, up to its highly successful Kickstarter campaign in August 2015.
We thought it would be a good idea to catch up with David, as he prepares to send out the first batch of Scribas to his Kickstarter backers. It's been a longer production period than expected, but the product has undergone a few significant improvements, which David hopes will make it worth the wait.
Let's get back to summer 2015. The team had already experienced the trials and tribulations of hardware development and had fully working prototypes. The discussion moved on to materials, manufacturing, logistics, and the other elements involved in delivering a quality, shop-ready product. David was clear he wanted to manufacture in Ireland, instead of going the somewhat obvious route of finding a plant in China.
David was introduced to the business development manager from Hasbro – the famous toy manufacturer – who was able to offer a partnership with Cartamundi, their Waterford-based manufacturing arm. With a strong manufacturing support, this meant the team could move into the design for manufacturability (DFM) phase. A whole new language had to be learnt at this point, as David worked with engineers and the Hasbro/Cartamundi team to perfect the design, assembly and materials. There were plenty of challenges and even the bespoke packaging that suspended the product to show off its unusual form was a complex design challenge that needed to be solved.
(click to enlarge the images)
Through an Enterprise Ireland Innovation Voucher, Dublin Design Studio worked closely with Athlone Institute of Technology's CISD to develop the design of the 3D model that would be used to create the very expensive tool required by injection moulding. Getting the geometry correct from both a manufacturability perspective, in addition to the look and feel of the product, required many iterations; even though the electronics of the product were well-established, the form and feel of the product would have a huge impact on the user experience.
By Christmas that year, David assumed they were ready to go into production. However, a suggestion of an alternative tool design that would yield noticeably better quality results and an associated quote from the tool makers that was double the anticipated cost meant David had to make a difficult commercial decision.
"I felt strongly that anything that might let down the perceived quality of the overall product must be sorted out, and with competition from the likes of Wacom, Adonit and even Apple, it was important that Scriba was as perfect as humanly possible."
With support from volunteers and numerous interns – David thinks his team may have involved a total of 50 people – all contributing their own expertise and insights to the product, Scriba has evolved into more than just a stylus. David has grown a network of mentors, advisors and friends who have also been instrumental to the realisation of this product. With such a complex project, it's easy to get bogged down in the details or be consumed by the technical difficulties, so his strategy has been to celebrate the small wins whenever they happen.
"What I probably didn't appreciate as much at the outset is that as a startup, developing hardware encompassed so many other fields. For instance, we've not only developed a hardware product, we've also created an ecommerce site, developed an SDK for software developers and produced six apps to go with it!"
The manufacture process itself threw up a number of technical hurdles, each one seemingly insurmountable. David credits the openness of the wider network he had at that point with his ability to overcome each one… companies went above and beyond what would have been commercially expected, and generously gave any insights and expertise they had. In addition to Cartamundi, of particular note were IPC Polymers in Kilbeggan who opened their doors to David to develop and test composite plastics to meet the product's particular technical requirements. Scriba really is a testament to the Irish business ecosystem.
In parallel with the hardware and materials, the team moved onto software – developing apps and adding functionality (for instance, Scriba can trigger your iPhone camera and you can use it to control presentation slides or annotate PDFs).
"I wanted to change people's perception of what a stylus could be. Every day I would ask myself: what value can we add for our end users? Sure, people will use the stylus for sketching and drawing; but that's not all they do during the day so how can we fit into their lifestyle even more?"
A selection of artwork created with Scriba
(click to enlarge the images)
David, an architect by training, says he doesn't get to spend long days ideating and being immersed in design. As a startup founder, his time is mostly taken up with other, more pressing issues: marketing, logistics, HR, management, finance and business development.
To keep the lights on during the development of Scriba, Dublin Design Studio has taken on a variety of architectural projects, and collected a few awards for these over the past couple of years, including Best Housing in last year's RIAI Awards. Scriba itself has won a shelfful of accolades – the Irish Times Innovation Awards, UK Design Week Awards, Bank of Ireland Startup Awards and the IDI Awards to name just a few.
Fast forward to October 2017, and the very first batch of Scriba styluses has been manufactured, packaged, and is currently heading out to those first Kickstarter investors, who pledged over two years ago. David has been careful to keep these backers up to date along the way and has sent them regular updates and progress reports.
"I'm pretty hands on and to understand the process, I spent the day at the plant in Waterford working with the operators on the assembly line. That incredible moment of having the very first one, boxed, in my hands, was just amazing. It's been such a long road and thanks to everyone's perseverance and hard work it's now a reality."
General sales of Scriba are about to go live, initially via their own website – getscriba.com – and also on Amazon. Scriba has been accepted onto the Amazon Launchpad programme, which showcases innovative new products from startups. This will be crucial to the firm's success, as they have identified Amazon as the key channel for their target market.
David is keen to point out that Scriba is only the first product the studio plans on creating. The collective knowledge the team has acquired since David's very first prototype will be no doubt be channelled into other exciting projects. It certainly sounds like David is itching to get back to design, so I don't think we'll have a long wait!