Case study: BriteBiz – business management solution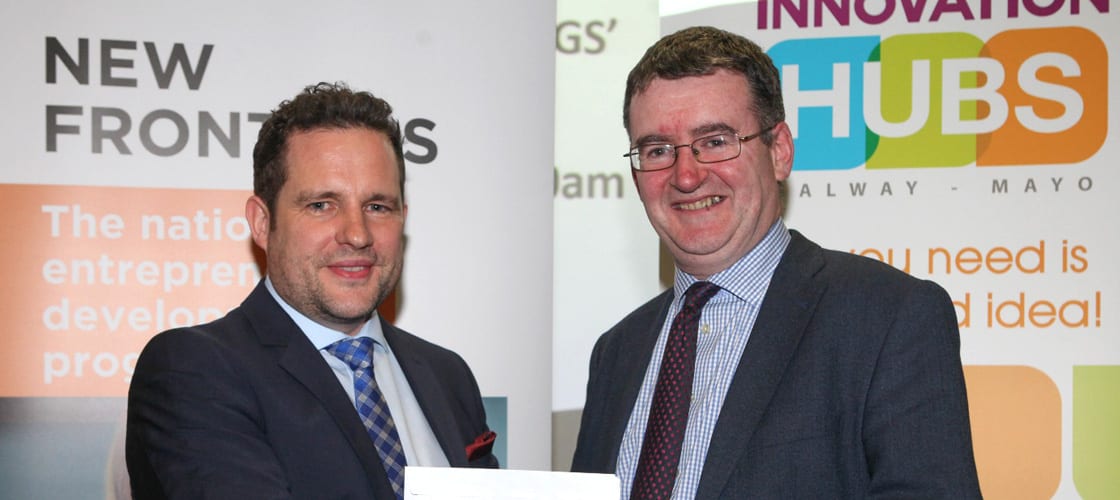 BriteBiz is a Galway-based technology company that specialises in end-to-end business management software. The company's CEO, Eamon Crosby, took part in the Enterprise Ireland New Frontiers programme in Galway-Mayo Institute of Technology.
Since qualifying as a Chartered Accountant with PwC 12 years ago, Eamon Crosby has been involved in founding and managing a number of different companies, mainly in the service and events industry. "I had been involved first hand in managing and scaling various companies. We constantly came up against roadblocks with the amount of administration load involved and continually sought ways to streamline processes. Although we were always using modern management tools such as Salesforce and Quickbooks, there was no efficient way to integrate them and create a streamlined, end-to-end solution." notes Eamon.
A lack of end-to-end solutions for SMEs
He points out that, "Over my years at PwC, I had worked with several large blue chip companies that used highly bespoke and integrated systems, such as SAP or Oracle, but this same streamlined process did not seem to be available for small and medium sized companies, particularly those that wanted a cloud solution." After many failed attempts to find a better integrated cloud-based solution for SMEs, he decided to go it alone and set about developing the solution for himself – and so the adventure began.
"We developed the software in-house over a two-year period, and began to deploy it within a small number of beta customers. It really did have a hugely transformative effect, allowing companies to scale more rapidly and cut costs significantly through integrated systems," says Eamon. "BriteBiz acts as an end-to-end solution from lead generation and capture on your website to product and service management, from quotes and e-contracts to booking management, from credit control to payment processing. BriteBiz also has many unique features not available in any other system currently on the market, such as client portals and worksheets for each individual deal, as well as resource allocation. Essentially, it takes the best parts of a CRM, project management system, payments platform and resource management and bundles them all together in a beautiful, easy to use cloud application. BriteBiz makes it easy for companies to do business, particularly companies in service industries."
A solution that works across many sectors
After a successful deployment within the initial early adoption customers, Crosby and the rest of the team started to notice that other companies across different industries, and across the world, were suffering from the same problems and pain. The application has become a particularly good fit for the hospitality industry. "We work with several hotels and provide them with powerful tools for their sales and marketing teams to manage weddings and events," notes Eamon.
"We knew that there was a huge potential market for BriteBiz, but there was a significant challenge in developing the correct sales and marketing strategy to achieve this. We became aware of the GMIT New Frontiers programme and decided to apply. The programme has been hugely beneficial in formulating a strategy and developing the best route to market for BriteBiz, we would highly recommend it to anyone starting off a new business, particularly in the tech sector," says Eamon.
Britebiz is currently scaling from its Galway office and now has customers across Ireland, the UK and the US. "We are looking at bigger markets outside of Ireland, particularly the US. We are targeting the SaaS (Software as a Service) marketplace, which is estimated to reach $300 Billion by 2025. As BriteBiz also has a payment platform, we will also be targeting other high-value markets such as construction industries, the legal profession, IT and healthcare sectors. Our payment platform is currently being expanded to included digitised direct debit, and we will be working more on the payments part of our system over the years ahead, as Fintech technologies continue to develop."
The company plans to grow its workforce within Ireland over the coming months and years. If you are a company looking for the perfect end to end business management solution, or you are looking for a role with an exciting tech company, take a look at the BriteBiz website. The New Frontiers programme at Galway-Mayo Institute of Technology is delivered at Innovation Hubs in Castlebar and Galway.
[The image above shows Eamon Crosby from BriteBiz receiving the New Frontiers Best Emerging Business award from Conor O'Dowd, KPMG]