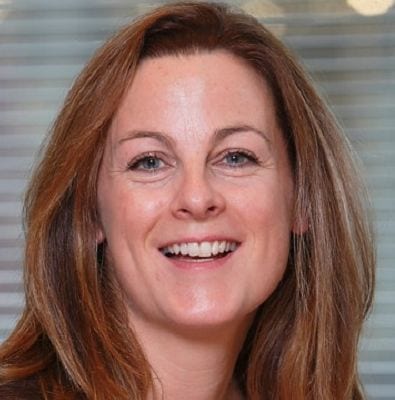 Nicola McDonnell is a New Frontiers alumna and the founder of Itchy Little Monkeys. The startup provides solutions for young children with eczema; its product range currently consists of the Shruggi – an innovative form of scratch mitten – and a range of fun storybooks.
Nicola comes from a business background. Before founding her startup, she had worked in senior management for 15 years, in roles that encompassed a wide range of  responsibilities.
When her daughter developed eczema at an early age, Nicola started searching for products to help prevent her from damaging her skin from scratching. Nicola was looking for products that were effective and child-friendly, with the element of fun thrown in, but after endless searching she realised she would have to come up with something herself.
She knew from experience that parents will try absolutely anything to manage their child's eczema, but that so often products fall far short of expectations. Nicola developed the Shruggi – a cardigan-style shrug that also covers the hands so that children can't scratch themselves. It is designed to compliment standard clinical treatments, and is complemented by a range of storybooks that help give kids a sense of normality when living with an itchy skin condition like eczema.
Nicola participated in both Phases of New Frontiers at Dublin Institute of Technology (DIT Hothouse). She found the programme very beneficial; the one-to-one time spent with experts in their relevant fields – marketing, strategy, etc. – was really helpful.
It was great that there was such a mix of companies on the programme. It made it very interesting, and my fellow participants were all amazingly talented and a great group of people. The entrepreneurial journey has been very rewarding. Taking the plunge and starting a business can be really hard work, daunting and lonely, but most of all it is such a rewarding experience, with lifelong lessons and experiences gathered along the way.