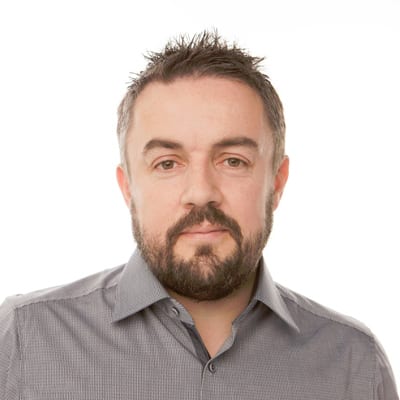 Ciaran was a New Frontiers participant at IT Sligo in 2014. His company, StoryLab, gives brands a route into a new style of high-quality storytelling and journalistic content in a business setting, producing stories that people will want to share and consume.
Storytelling is in Ciaran's blood. When he was 12 years old, he decided he wanted to become a journalist and, specifically, to work in London's famous Fleet Street, the home of newspapers.
Growing up in Cork, he regularly wrote for local newspapers before moving to London to pursue his dream of being a reporter. In 1992, The Sunday Times became the UK's first national newspaper to launch a training scheme for school leavers – an unheard of initiative at the time.
Ciaran was plucked from amongst 800 applicants to be given one of only two slots. The Sunday Times even sent him to journalism school to learn shorthand, law and to study how government operates.
He went on to work at senior executive level for the biggest names in Irish and UK media, including Guardian Newspapers, Independent News & Media (INM), and the Telegraph Group.
Ciaran has reported from Africa and was in Kosovo in 1999 as NATO forcibly removed Serb forces. He also covered the US presidential election in 2000 and, as deputy news editor of The Observer, helped shape the paper's coverage of the 9/11 attacks in America and the wars in Iraq and Afghanistan.
Returning to Ireland, Ciaran took up the posts of news editor at the Sunday Independent and then associate editor of the Irish Independent, a position he held for eight years. He started StoryLab in 2014 with co-founder Martha Kearns, news editor of the Sunday Business Post.
Weeding out jargon, promoting people's stories and keeping it simple are essential for storytelling in today's business world.  Everyone has a story, but lots of people struggle with the telling of those stories, be it for their website, internal publications or social channels. We help businesses publish quality journalism – about themselves.
A typical day at StoryLab could involve anything from creating a two-part series for the Irish Independent on the life of WB Yeats to supplying a monthly pipeline of blogs for a London-based client to storytelling about clean technology for the International Sustainability Investment Centre. Ciaran finds the challenge of running a business highly stimulating:
The upsides are massive: calling your own tune, controlling your own destiny. Time management is crucial and growing your team so you can scale up and consistently exceed your clients' expectations. Our number one bit of advice would be to have an accountant from Day One and a professional office set-up: cheap telecoms and the proliferation of online productivity tools make this possible for any business.