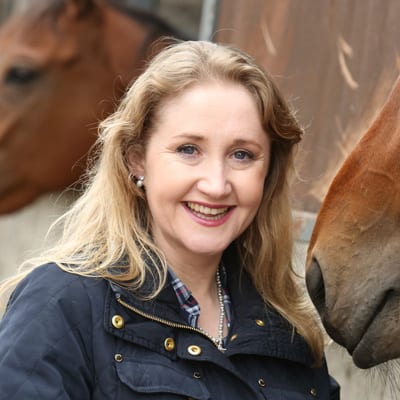 Alma Jordan is a New Frontiers alumna and the founder of AgriKids, a farm safety educational platform for children. The company works to positively engage, educate and empower children to become Farm Safety Ambassadors.
Alma and her family run a farm in Co. Meath. Their main enterprises consist of thoroughbred horses, tillage, beef cattle and poultry. A keen equestrian in her younger days, Alma competed in many national events in the fields of eventing and showjumping.
Professionally, Alma worked in the area of sales and marketing in industries such as radio, mobile telecoms, environmental and manufacturing. Her previous employers include brands such as Meteor, Renault, Neopost and Repak. During her time with Repak, Alma spent a lot of time visiting schools as part of the An Taisce 'Green Schools' and 'National Spring Clean' programmes. She witnessed first-hand how proactive and passionate children were in recreating the recycling culture they learned in the classroom and implementing it within their homes. They were actively encouraging and educating their parents on better recycling practices.
The genesis of AgriKids was largely prompted by the many farm deaths that occurred in 2014. It was the worst year on record for farm safety in Ireland. That year, 30 people perished on Irish farms, of whom five were children. With the deaths of two young children in quick succession, the topic of farm safety and how to address it weighed heavily on Alma's mind.
It was while watching her then 2 year old son, Eamon, that Alma started thinking about how he engaged with his favourite characters and farm story books. Despite his age, Eamon was already well-versed in the necessary techniques of grain harvesting, dairy farming and ploughing. What's more, he was chatting about it and relaying his learnings to his peers and grown-ups.
Alma devised a concept aimed at initiating a sea change in farm safety attitudes, enabling communities to build safer futures on farms. AgriKids was born and officially launched in June 2015. Alma believes her engaging approach to farm safety education will serve to continually empower children to be safer farmers in the future. The approach also requires and includes the input of parents and guardians, thus sharing the learning outcome with all.