New Frontiers Showcase and Awards at Waterford IT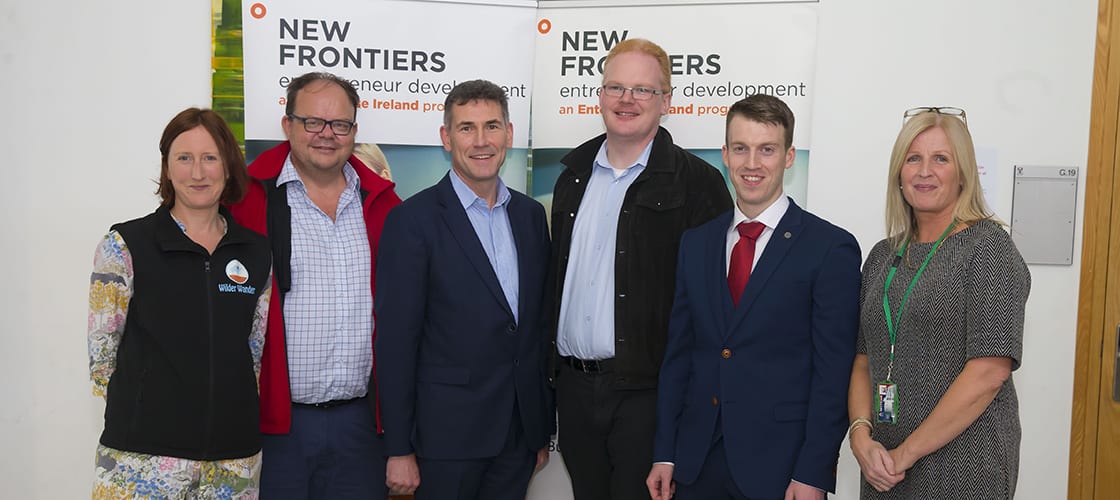 The New Frontiers Class of 2018 Showcase and Awards took place at Waterford Institute of Technology recently. Members of the southeast start-up community were in attendance to meet the New Frontiers Class of 2018. The founders of four of the Southeast's best start-ups in 2018 were honoured for their entrepreneurial spirit in developing innovative business solutions for international markets.
These entrepreneurs have developed solutions for markets such as software for the marine and motor industries, algorithms to predict product lifespans, applications to harvest scientific data into games for families and those who love the outdoors, a solution to help engineers navigate their way around oil rigs, and an innovative range of cosmetics for men.
Showcase award winners
The Most Innovation New Idea Award went to Motoklik, an electronic device used to improve the performance and safety of off-road motorcycle riders.
The Best Business Plan Award went to Raceix, an Irish start-up bringing game-changing technology to the international pleasure boating sector through a mix of proprietary hardware and software.
The Best Business Opportunity Award was won by MetriLED, a technology company that accurately predicts LED lifetimes using 10% of typical measurement time at a third of the cost.
The Best Exhibition Stand went to Wilder Wander, which turns the great outdoors into a virtual classroom by creating engaging educational technology tools and resources for the public and private sector.
The showcase event
Waterford Institute of Technology President, Prof. Willie Donnelly, congratulated the four entrepreneurs on their awards, saying,
"Your hard work and dedication in launching new businesses deserves to be recognised. WIT has a strong record in supporting entrepreneurship development. We will continue to recognise and support entrepreneurial talent and we wish the New Frontiers Class of 2018 every success in further developing their businesses."
New Frontiers Programme Manager, Eugene Crehan, said,
"These entrepreneurs have worked hard on Phase 2 of New Frontiers to increase their knowledge of their target markets. They have engaged with target customers in a meaningful way to achieve the best product-market fit solutions for customers' problems. They are now part of the New Frontiers community of innovative entrepreneurs who have completed the New Frontiers Programme at WIT."
Feedback from participants
Speaking after the event the winners spoke about what it meant to them to receive these awards.
Aidan Foley, CEO of Raceix claimed, "For us, at least, the entire purpose of New Frontiers was to develop an investment-ready skillset.  With the 'business plan' being at the heart of any potential investment, we were delighted that this was the area in which we received an award."
Vicki O'Donnell of Wilder Wander said, "We were delighted to receive an award from New Frontiers in Waterford, a culmination of six months of hard work on the programme!"
Jens Kopke CEO of Motoklik said, "Being awarded the New Innovative Business award was a great achievement for us, especially with so many great businesses graduating alongside Motoklik."
Vicki O'Donnell speaking about her entrepreneurial experience earlier in 2018:
Since 2011, WIT has supported 175 participants on Phase 1 of New Frontiers and 59 participants on Phase 2 of New Frontiers. These 59 Phase 2 participants created 102 jobs in the region and between them have secured €4.5 million in private and state investment. 13 of them have secured the Enterprise Ireland Competitive Start Fund (CSF) and 6 of these are now Enterprise Ireland High Potential Start-up (HPSU) companies having secured private investment and matched funding from Enterprise Ireland. One former New Frontiers participant took their company public earlier this year with listings on the Irish Stock Exchange's Enterprise Securities and the AIM in London, raising €6.7 million through those listings.
The New Frontiers Entrepreneur Development Programme at Waterford Institute of Technology is delivered twice annually in the South East region by Waterford Institute of Technology in collaboration with Institute of Technology Carlow (ITC). Phase 2 of New Frontiers is an intensive 6-month programme where participants learn how to establish and run a new high growth potential company. Applications for Phase 2 at WIT are now open. Register your interest today!