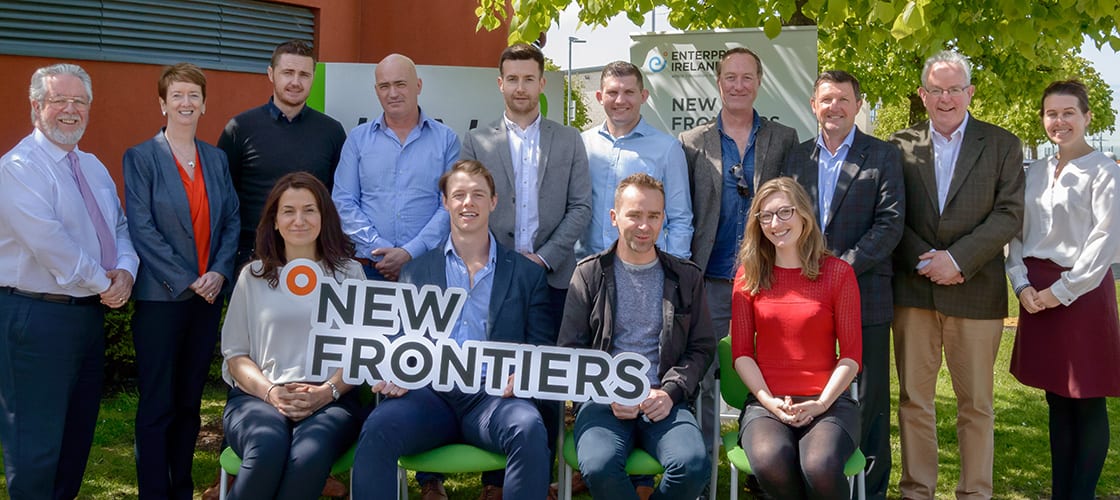 New Frontiers Programme Manager at IT Blanchardstown, Colm Ó Maolmhuire, says goodbye to the latest Phase 2 cohort. 10 entrepreneurs developed their early-stage business ideas during the six-month programme, with support and training from industry experts and the staff at the Learning and Innovation Centre (LINC).
When we started on this challenging full-time programme in the cold days of November 2017, it was the energy and enthusiasm of the entrepreneurs that reminded me we were heading into the bright days of early summer 2018. Those days have now arrived and I am delighted that 10 strong, committed entrepreneurs are leaving us – in a good way!
As any startup entrepreneur knows by now, it's chiefly yourself who will be putting in the hours – the vast bulk of the work done in an early-stage startup is by the founder and any co-founders. The real benefit of participating in a support programme such as New Frontiers is exactly that – the support.
We provide structure, time and space to develop from a well-presented business case to a 'rocking & rolling' enterprise. Well, that's the plan anyway! The formal outcomes of the programme are an investor-level business plan and pitch. But, in order to get there, many other actions have to be started and completed.
Three main thoughts occur to me about entrepreneurs, startups and programmes, and how we can help support their progress:
Time is short
I joked with this group in our first workshop that six months of Phase 2 would go faster than the six weeks of Phase 1. They didn't believe me, until it did go faster! Phase 2 requires such a step up in all aspects of starting up that the best advice is to have an action plan and milestones; then work to them. That's the benefit of the reviews within the programme – keeping on track and adapting at the same time, in a very tight timeframe.
Progress is the main thing
Each entrepreneur and enterprise makes progress at a different pace. It depends on so many different things – product or tech development, market engagement, financial planning, costs and funding. Even though everyone starts on the same date, we don't all finish in the same place. Progress is relative, but so are setbacks. It's what you do next that's now important.
Thank you for your trust
Given the energy and enthusiasm, risk and workload, and the serious challenges involved, I have the utmost respect for the real entrepreneurs who have trusted us to support them on this early part of their journey. If you do well, we do well. Thanks, and good luck!
The LINC – New Frontiers class of 2018
Ciaran BRENNAN
Ground Up's first product to market, PaidAde, addresses a huge pain point for tradesmen. Tradesmen hate paperwork. After many years working in the construction industry, Ciaran knows and understands this pain point. Through experience and market feedback they have developed PaidAde, a tool that gives tradesmen back their evenings and weekends by digitally removing the paperwork tasks from their business.
Catherine COFFEY
Lexi is an online platform that teaches non-native English speakers job-specific vocabulary. By harnessing the power of artificial intelligence, Lexi aims to change how people learn languages. They provide personalised, bite-sized language courses that are tailored to suit users' preferred career path – that way they are learning the English they need to succeed in a working environment. Courses are constantly changing so that the content being learned is up to date and relevant.
Bernard HAYES
Fanled.ie is an Irish company that plans to save the music industry. They are bringing back real ownership for music fans and giving musicians the power to create their own future. This new crowdfunding platform allows fans to own a piece of publishing of a song they like, while at the same time giving direct revenue to the artist. Their goal is to be an agitator in the 21st-century music industry model and give both music lovers and music creators the power reap what they sow.
Chantel KANGOWA
Lucca Diagnostics will produce a non-invasive medical/life science diagnostic device to detect and diagnose Urinary Tract Infections. The device will make the collection, sampling, detection and diagnosis of live samples of urine and faeces a more efficient and infection-controlled process. The device is primarily aimed for use on unwell: paediatrics (0-16 years), pregnant women, the elderly, people suffering from urinary incontinence, and people who are incapacitated due to illness.
Noel McKEOWN
Teeze is a dating app with a difference. It focuses not only on people matching but meeting face to face. Teeze makes it easy to break the ice, chat and more importantly organise dates. 90% of matches in mobile dating do not meet up. Teeze uses technology and innovative features to make dates happen.
Cormac O'BEIRNE
RYPT is an online platform for gyms and personal trainers to market themselves, attract new clients and add value to existing clients. It provides them with the tools they need to train their clients online, and motivate them to reach their health and fitness goals. Using RYPT's platform, individuals can find the right personal trainer for their individual needs and get all the expert advice they need to reach their fitness goals, from workout programmes to nutrition plans to wellness monitoring, right at their fingertips.
Simon RUDDY
Dilution Solutions has developed a dilution device that makes it more cost-effective, safe and environmentally prudent to work with concentrate chemicals used at home and at work, for example, horticulture, cleaning and industrial chemicals. The device will be designed into a range of products for use in domestic and commercial settings.
Derya SOUSA
Kianda is a cloud-based business process automation platform that provides a very simple way for non-technical users to build complex process workflows made of professional-looking online forms, without the need for coding knowledge. It enables companies to streamline not only internal but also external business processes, opening up an entirely new perspective to inter-company collaboration.
Morgan THUNDER
Bubblbook is a new way for activity providers to get in front of group organizers and take provisional bookings online. It's also a new and easy way to organize group outings with automatic bookings triggered by interest. Bubblbook cuts all the hassle out of agreeing on the 'who, what and when' to focus on what matters – people getting together.
Raef TYRRELL
Ekho works to provide improved experiences and analytics for tourist attractions. Their aim is to make every visit count. Ekho uses BLE beacons and an application on a user's mobile device to provide a proximity-enabled guided experience in a tourist attraction. Their client-base is tourist attractions, who are offered a content management system and analytics dashboard accessed via the Ekho website to manage and observe the status of their guided experience.
About the author
Colm is the New Frontiers Programme Manager at IT Blanchardstown. He has 20 years' experience operating as an independent, professional management trainer, mentor and consultant. His main areas of expertise are in finance, business planning/analysis and management skills… [Read Colm's profile]