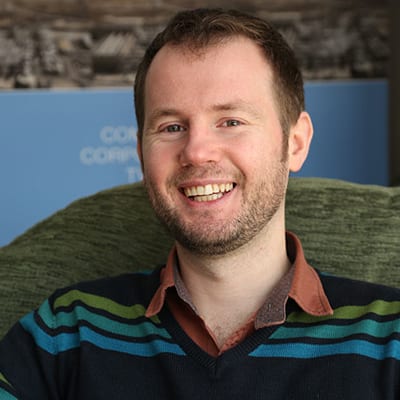 Ray is a New Frontiers past participant and Managing Director of Glue, a visual effects company based in Dublin.
Ray has always been creative. He remembers producing Plasticine stop motion films with his brother's video camera and drawing with that granddaddy of graphics programmes, Paintbrush, when he was a child. An honours degree in Animation from Wolverhampton University, in the UK, followed.
Freelancing for several years, Ray built up a wide range of filmmaking skills – both creative and technical – and travelled to all four corners of the world. He held supervising roles on international TV programmes produced for companies such as the BBC, RTÉ, Sky and the Sci-Fi Channel, and won several awards for his animations.
On returning to Ireland, Ray taught games design and animation to third level students. He also founded and runs Film Network Ireland, a community to promote and support people involved in the Irish film industry, which has over 6,500 members.
In 2013, Ray founded Glue, a visual effects company. The vision behind Glue was to combine techniques and technologies from video games, animation and filmmaking to provide the kind of blockbuster effects usually only available from big studios. They work on all types of project – from films to exhibitions, safety training videos to service/product explainer videos and anything in between. By enhancing videos with 3D animation, Glue creates a more engaging, immersive experience – although always with an eye on keeping production time and costs down.
Glue's client roll call includes The National Lottery, LEGO, The British Council, Eircom, EFSA, BBMV, The Irish Whiskey Museum and Mars. But with more and more companies turning to video, Ray keeps a firm focus on providing quality content.
If your video is poorly produced, this will only serve to push visitors away. Your video is a great way to reflect the quality of your brand and a chance to captivate, entertain and educate your customers.
Ray loves the challenge of running his own business and particularly enjoys the troubleshooting involved. Building the Glue team is another area he feels passionate about, and Ray is focused on nurturing a positive work culture that encourages creativity and innovation. When asked what key skills an entrepreneur should master, his answer is unequivocal: time management and maximising efficiency.
Starting a business can be very demanding on the other aspects of your life. My advice to other founders is to make sure you find time to enjoy the things outside of work that are important to you. You can have a life AND achieve your business goals!