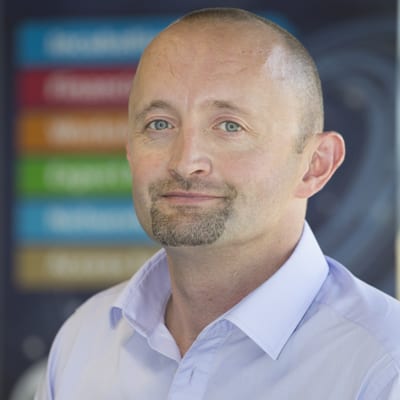 Dominic Mullan is a former New Frontiers Programme Manager at the Institute of Art, Design & Technology (IADT) Dún Laoghaire, where he was the Innovation, Commercialisation & Development Manager.
Dominic has extensive experience supporting the creation and growth of enterprises, with a particular focus on the innovation and technology space. He has worked closely with startups since 2000, and his expertise spans both the public and private sectors.
With a strong record of evaluation, facilitation and strategy – primarily as a consultant to organisations across multiple sectors – Dominic has worked with organisations such as InterTrade Ireland, Local Enterprise Offices, County Partnerships, Dublin Institute of Technology, Enterprise Northern Ireland, the Arts Council of Ireland, the National Rehabilitation Hospital, and various consultancy practices. The common theme has been a high degree of involvement with entrepreneurs taking the courageous step to launch their own venture, and Dominic finds there is no better place to spend your working life than among a bunch of people who are motivated enough to take that step!
With a highly developed network across third-level institutions, enterprise development agencies, finance providers and professional advisers, Dominic's core specialities include linking third level knowledge providers with industry; supporting startups; preparing funding & investment proposals; and networking entrepreneurs with finance providers, professional advisers and market contacts.