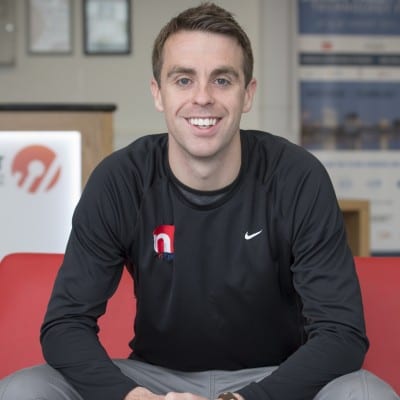 David is an international sprinter and entrepreneur. He represented Ireland in the 60m and 100m sprint (with a personal best of 6.95 and 10.78 respectively).
Having experienced the difficulties of funding an elite sport, David saw a gap in the market and created a platform for raising money for training and equipment needs: nTrai.com.
David knows the benefits that sponsorship can bring to the corporate world. nTrai specializes in corporate sponsorship, crowdfunding and community building.
By bringing the main sponsor closer to the sponsored project's community, David halves the cost and doubles the impact for the sponsor, while making it easier and cheaper for sport enthusiasts to enjoy their sport and achieve their goals.
David was a 2013 New Frontiers participant in Limerick. He is very enthusiastic about the benefits that the programme brought to his enterprise and would recommend it to other budding entrepreneurs.
The key elements for me from the programme were:

Winning business: From the very start of the programme you are challenged to pitch for business (funding). The application forms and presentation show you the reality of business. If you don't like application forms or presenting you have to get used to it quickly to compete in business.
Status: Having being accepted into the accelerator programme brings a status with it. It shows you have been assessed by an Enterprise Ireland programme and have proven to be an exciting prospect. People will listen more.
Training: Having experts go through topics including marketing, sales, finance, etc. is brilliant.
Team: Having a number of people going through the programme with you is fantastic. Being able to discuss problems and help other people with theirs creates a real sense of team.
Funding: This certainly helps with creating runway and gives the company a chance to develop the MVP.