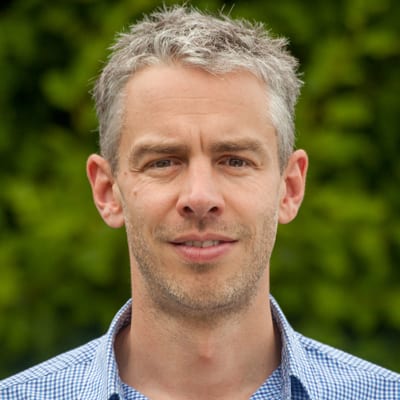 David is founder and CDO of Dublin Design Studio and a New Frontiers alumnus.
David was born in Scotland, and studied architecture at the Mackintosh School of Architecture (part of Glasgow School of Art). After graduating, he joined Building Design Partnership (BDP) – one of the largest architecture companies in the UK – where he was involved in some high profile projects, such as the Edinburgh headquarters for Scottish Widows. He was also part of the small team selected to design the Glasgow Science Centre.
In 1997, after a stint at Farrell Associates, in London, David moved to Ireland to work in BDP's Dublin office. He stayed there for three years, working on projects for a number of prestigious companies and organisations, including Dublin City University, University of Limerick, Athlone Institute of Technology and AIB Bank. He left BDP to set up Craig Henry Architects with friend and colleague, Niall Henry, working mostly on public buildings, leisure facilities and mixed-use developments.
In 2003, Craig Henry joined forces with another small practice to create Burdon Craig Dunne Henry Architects. They went on to win the design competition run by Dublin Docklands Development Authority for the U2 Tower; their six-person team beating 600 other entries from around the world.
After the crash, David saw that his practice has gone from working on exciting, multi-million euro buildings to lots of house extension projects. He no longer felt challenged by his job, and decided to explore an earlier passion for product design. He had always questioned why some things are the way they are and decided to develop some of these ideas into concepts.  He received early validation for them, but at the time he didn't find the right partners to take them forward.
Last year, he decided to develop one of those ideas himself – his prototype iPad stylus, Scriba. He joined Phase 1 of New Frontiers, and then successfully applied to Phase 2, starting in January 2015.
I enjoyed being challenged and educated on what it takes to build a business. The validation was the crucial first step. Although it meant that for a while I stopped working on the product, it made me look at the WHY, which was a really important lesson I learned on New Frontiers!
David appreciated the healthy engagement he got from the other participants; having people working alongside him, but not in competition with him, was a big benefit of the programme.
Having to give up the day job is a big commitment, but with the safety net of quality advisors who will challenge you and whose goal is to help you succeed, it's a risk worth taking. I wouldn't have done it otherwise. It's made me more confident and a better manager of myself and others as a result.
David's key advice to other entrepreneurs thinking of taking that first step is: have people to talk to. It's lonely being a founder and a CEO, so find someone from the outset who isn't afraid to disagree with you, question what you're doing and challenge your preconceptions.