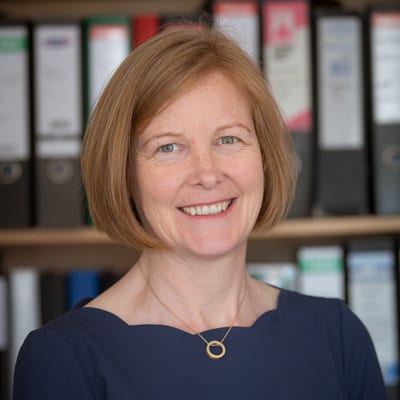 Auveen is an Enterprise Ireland mentor and the Mentor Coordinator for the lifescience and cleantechnology sectors. She also runs a sales and marketing consultancy.
An engineer with 15 years' experience in international sales and marketing roles, Auveen has worked at management level in the lifescience and utility sectors across the UK and Europe. She has strong business development experience and in-depth knowledge of public sector tendering and procurement – her particular areas of expertise are focused around sales development, public sector tendering, commercial due diligence and technology commercialisation.
Auveen brings her own startup experience to her role at Enterprise Ireland, having co-founded a ready meals food business in 2003. The three years she spent there were the most challenging of her working life, and gave her a real understanding of the issues and struggles facing startups.
In 2006, Auveen returned to the world of marketing and founded AO Consultants, which offers marketing consultancy to technical companies operating in the B2B sector. She believed that her knowledge and experience would be an asset to tech startups, which so often have difficulty commercialising their products or services.
Auveen has been a mentor coordinator for the past five years, during which time she has facilitated the matching of over 500 Enterprise Ireland clients with mentors from the panel and gained valuable insight into the process of choosing a mentor.
I think everything is about selling. Someone recently said to me that "Life is a pitch" – it certainly is! We pitch for everything, from jobs to supply contracts, from partners to potential landlords, from investors to customers and yes, even potential mentors. We are selling in all situations. And I believe the key to successful selling is empathy – if you can see the world the way the person sitting opposite you does, you are well on the way to a sale.