Valuable insights at the DIT/IADT New Frontiers Showcase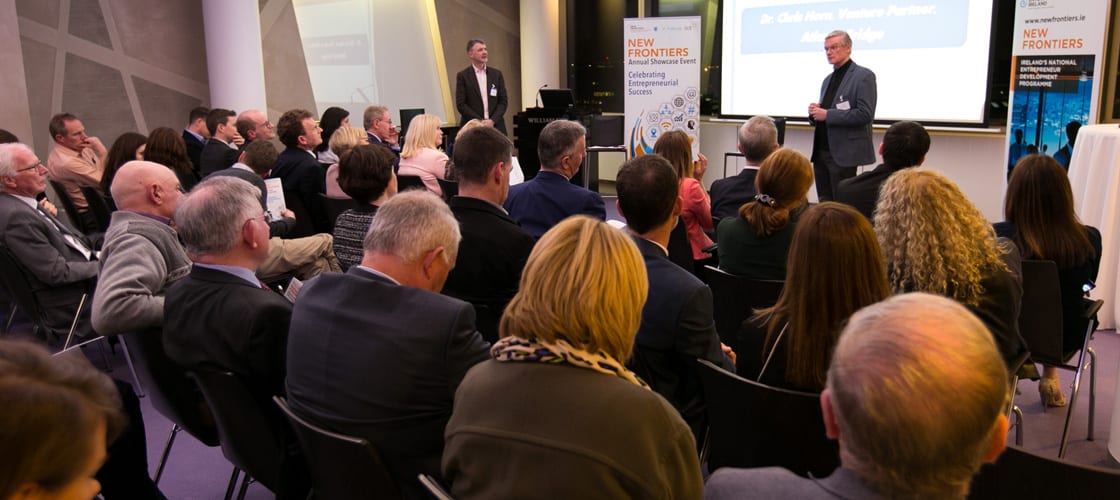 Cast your mind into the future and imagine that your 'start-up' is employing more than 1,000 people in 22 offices around the globe, has clients such as Boeing and has just been acquired for more than $160m. Then imagine that the investment bank handling the sale goes belly-up, taking with it all the proceeds of the sale. That's the doomsday scenario which Irish tech legend, Dr Chris Horn, avoided by a mere 48 hours in 2008.
48 hours from disaster
Speaking at the recent 2016 Showcase of the DIT/IADT New Frontiers Programme, Chris recalled a Friday afternoon in September 2008 when he received a call from Lehman Bros to advise that the sale of Iona Technologies to Progress Software had completed and that all shareholders had been paid. Two days later, Lehman Bros – then the fourth largest investment bank in the US – filed for bankruptcy: an excruciatingly narrow escape for the founders and shareholders of one of the greatest Irish tech start-ups.
Dr Chris Horn
Reassuringly for the start-up founders listening to Chris, the early days of the Iona success story were marked by many of the same ups and downs as they too are experiencing along their start-up journey.
In essence, the Trinity College graduates behind Iona were setting out to compete against global players like IBM and Oracle, so it's not entirely surprising that early approaches to banks, seed investors and VCs yielded a resounding 'No!' In those barren financial days, the team did 'anything semi-legal on the streets of Dublin: file-ups; consultancy… whatever brought in much needed money.' Heading to their first trade show in the US, the team still weren't entirely sure who their customer would be until such time as Sun Microsystems not only became interested in Iona's products but also offered to invest in the company in 1993. Four years later, in 1997, Iona completed the 5th largest IPO in the history of the NASDAQ, before its subsequent sale to Progress Software in 2008.
When asked for a few words of advice for the founders present at the event, Chris underscored the importance of building capability AND aspiration among indigenous founders. Ask yourself if you want to be truly global in scale and, if you do, align yourself with a really strong mentor who brings deep experience – 'someone who has seen the movie before' – in the case of Iona's non-Executive Chairman, Kevin Melia. Chris also noted how Brexit impacts on the logic of approaching the UK as a first export market.
Reflections from the other end of the startup journey
Kindly hosted by William Fry Solicitors, the event saw a number recent programme participants join in a panel discussion to share their experiences of launching a startup. The key theme emerging from the Q&A session was the importance of figuring out who your target customers should be, both in terms of fit with your product or service, but also as regards the time it might take them to commit to purchasing your product or service.
Cambrist
Co-founder of fin-tech startup Cambrist, Jacob Clafin, admitted to being perhaps a little arrogant in the days before New Frontiers:
We felt we were all pretty experienced in the finance space and knew exactly what we were doing. Looking back now, we didn't have a clue about actually getting anyone to buy the product!
Cambrist's multi-currency processing platform enables card issuers and processors to optimise the FX rates and margins applied to their customers' international payment transactions. In the early days, the team set out to sell their platform to major banks. Jacob now looks back humorously on his early interactions with banks.
I thought we nearly had the deal across the line just because these guys had agreed to have coffee with us. I now know that we hadn't even registered on the sales cycle of the banks that we thought would be our first customers.
Demonstrating one of the key competencies of any startup team, Jacob and his co-founders took stock of the slowness of their progress and reassessed their target market, soon pivoting towards credit/debit card issuers and processors, who have proven to be much more receptive and faster to move.
Local
Peter Devlin, founder of Local, echoed Jacob's sentiment. Despite a long career as a member of Dublin music group the Devlins, Peter took a while to figure out the right audience for his startup. Peter initially pitched Local to a number of airlines as an app which would provide passengers with information on their destination city.
He soon figured out that 'the only things that move fast in the airline sector are the planes!' Faced with that never-ending sales cycle, Peter reoriented his pitch towards hotel groups, offering a virtual concierge service, providing valuable opportunities to engage with guests and generate ancillary revenue for the hotel. Immediately, Peter found the decision-making process much faster and soon secured a range of hotels and chains as customers, while also securing investment from a key player in the tourism sector in Ireland.
Popertee
Lucinda Kelly of Popertee highlighted the importance of really understanding what it is that your customers are looking for. Popertee started out as an online marketplace to match owners of available space with businesses looking for venues for pop-up shops, promotions or events. Conscious of competition from similar players, Lucinda felt Popertee needed to strengthen its competitive differentiation. The answer lay in listening closely to what corporates were asking about, notably data like footfall and population density. Popertee is now marrying that sort of data with content on properties available for short-term lets, strongly reinforcing the company's value proposition.
Success for our 2016 alumni
Orla Battersby, Head of the HPSU Division of Enterprise Ireland, congratulated the participants and noted how 11 of the 30 founders who completed the programme in 2016 have already secured investment through the Competitive Start Fund. Minister for Jobs, Enterprise and Innovation, Mary Mitchell O'Connor TD, also applauded the participants' courage and tenacity, and reassured them by quoting James Cash Penney, founder of JC Penney Stores: 'It is always the start that requires the greatest effort.'