The New Frontiers programme: 2016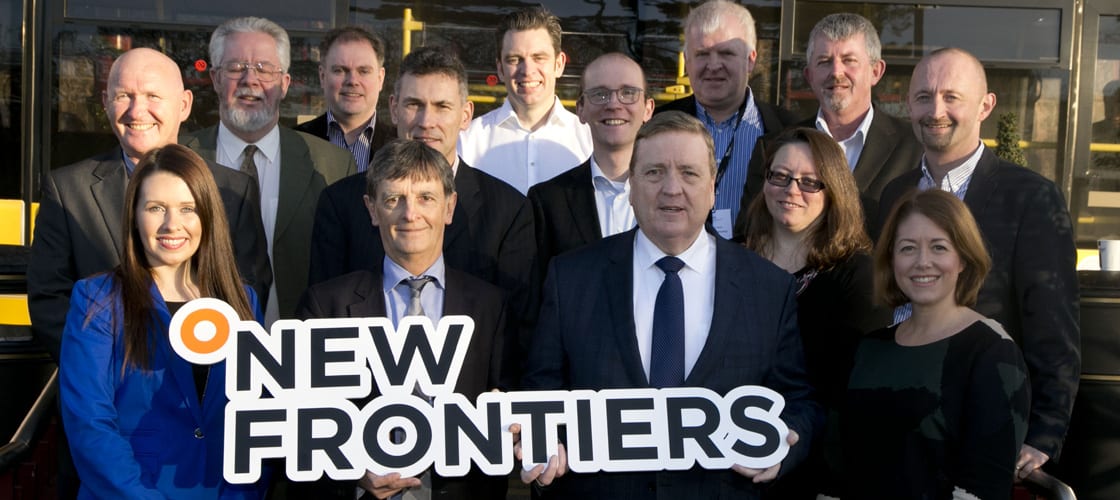 2016 marked the fifth year that the New Frontiers programme has been helping early-stage entrepreneurs to develop their Irish startups. Here's a quick look at our successes and developments from last year.
2016: a great year for Irish startups!
The programme
During the course of 2016, 1,529 people expressed an interest in the programme via this website – an increase of 36% on the previous year. 160 entrepreneurs were accepted to Phase 2 of the programme – delivered at 16 locations around the country, Phase 2 is a six-month, full-time course offering intensive support to the startup entrepreneur.
There has been great engagement from the New Frontiers community on social media. At the time of writing, our Twitter account has 2,747 followers and our LinkedIn community has 1,430 members.
More anecdotally, we have noticed an increased awareness of the programme, as well as continued interest from entrepreneurs living abroad and thinking of relocating to Ireland.
Awards
Both participants and alumni have been going from strength to strength. It was another busy year for awards, with some of their key successes as follows:
Lucinda Kelly (Popertee) and Ryan Scott (Dropchef) were both finalists in the 2016 AIB Startup Academy
Noreen Doyle (Irish Biltong) won Best Family Run Business at the Blacknight SME Awards 2016
Graham Byrne (Your Smile Direct) won the PwC Docklands Innovation Award
Patrick O'Callaghan (TreyBro) and Anne Walsh (Allergy Lifestyle) were offered investment on Dragons' Den
Alma Jordan (AgriKids), Louise Murphy (Cyclok), Norma O'Mahony (effy), Kevin McCaffrey (Tr3dent), Oliver Hynes (HUB Controls) and Noreen Doyle (Irish Biltong) all took part in the BOI Startup Awards
Rory O'Connor (Scurri) won the Overall Business of the Year Award at the Wexford Business Awards 2016
Mike Morrissey (MyDealDoc) was a European Finalist in the Talent Unleashed Awards in London
Shane Brett (Gecko Governance) was the winner of the New Start category of InterTrade Ireland's Seedcorn Competition, and Graham Byrne (YourSmileDirect) was a regional finalist
David Craig (Dublin Design Studio) won at the Innovation Awards 2016
Shane Brett (Gecko Governance) won Best Business Award (under three years) at the Louth Business Awards
Tony Corrigan (TenderScout) won Best Digital Start-Up and the coveted Grand Prix Award at the eir Spider Awards
Gail Condon (Writing for Tiny) won Tech Startup of the Year at the European Tech Cluster Leaders Awards in Cork
InvizBox took the top prize at the LINC's Jumpstart 2016 competition
Congratulations to them, and to the other participants and alumni who received recognition for their hard work.
Enterprise Ireland
New Frontiers is proud of its role as a springboard for great startups. In 2016, 21 New Frontiers companies were awarded HPSU (High Potential Startup) status by Enterprise Ireland (compared with 12 in 2015), and 20 were awarded a CSF (Competitive Start Fund) investment of €50,000 by the agency. These are substantial achievements, as only the most promising businesses are selected.
Networking
We held our National Networking Event on 1st December in the Crowne Plaza, Santry. There were over 150 attendees, and 400+ one-on-one meetings organised. The format of the day included a panel discussion featuring three past participants, an EI representative who discussed raising finance and other EI supports, Conor McCormack of Mcor Technologies and round table discussions with themed topics.
Training
We continued our regional training days in 2016. Started in 2015, these training days are open to all Phase 2 participants, and offer a chance to network and get to know participants from elsewhere in the country. Two such training days were held last year – a Funding Workshop on the 1st March in the Woodford Dolmen Hotel, Carlow, and a Raising Finance Workshop in the Ashling Hotel, Dublin, on 28th July. Alan Costello facilitated both workshops, and there was a talk on HPSU and CSF funding.
Join the New Frontiers community online
Don't forget, we're here to support our alumni, no matter when you left the programme. Join us on Twitter and LinkedIn, and don't forget to share your company news with us so that we can help spread the word! If you would like to write for the blog, do please get in touch with our editor, Scarlet, on 085 214 7924.
The Enterprise Ireland team and New Frontiers Programme Managers wish you all the best of luck in your entrepreneurial endeavours of 2017!