The importance of networking for New Frontiers participants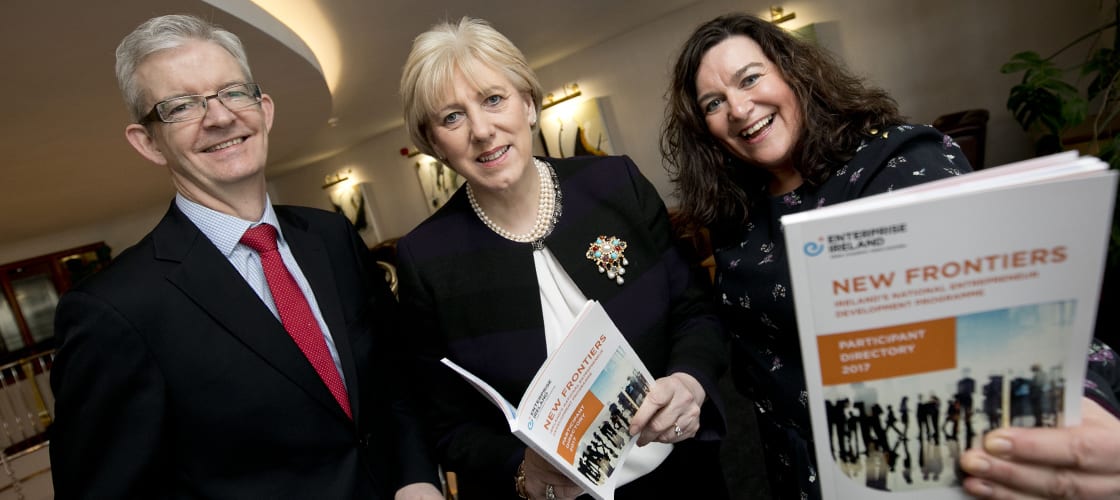 Joe Healy, (Divisional Manager, High Potential Start-ups, EI) – Minister Heather Humphreys TD, Minister for Business Enterprise and Innovation – Maria Gavin (Programme Manager New Frontiers, EI)
Of all the feedback received from entrepreneurs over the years, one key benefit of the New Frontiers programme stands out consistently: how crucial networking and peer support has been for their entrepreneurial journey.
New Frontiers participants get a wide range of supports on the programme. For some, learning sales and marketing skills, or successfully pivoting their idea, or preparing for export are the difference between success and failure.
But another characteristic of the programme is that it's cyclical, and all entrepreneurs (typically, around a dozen at each location) start at the same time and work out of the same incubator. They face their business hurdles together, even though they're each working on their own project, and celebrate milestones with their fellow participants. Insights and learning are swapped on a daily basis, as the focus is on collaboration, not competition.
So it's an added bonus that Enterprise Ireland organises a yearly networking event, where all the participants from the previous year – from the 16 locations around the country offering the programme – can come together and network. From speeches, presentations and inspirational talks from alumni in the morning, to dedicated one-on-one networking sessions in the afternoon, it's a day not to be missed.
An annual networking event
This year's networking event was held in Red Cow, Dublin, on 8th March. It was opened by Minister Heather Humphreys TD, Minister for Business, Enterprise & Innovation, who has some particularly good news for the programme:
"I'm pleased to learn that 2017 proved to be a record year for the New Frontiers programme with 164 entrepreneurs moving through Phase 2. Enterprise Ireland, together with the Institutes of Technology, work to continually develop and improve the programme and so, I'm delighted to tell you that a third phase is currently being developed and will be piloted later this year. This will no doubt be of immense benefit to those participating!

The Government of Ireland, through Enterprise Ireland, is very supportive of the New Frontiers Programme. €3 million was allocated in 2017 to be spent on this programme across the Institutes of Technology. However, it is important to continue investment in programmes such as this. I am pleased to tell you, therefore, that a further €400,000 has been allocated in the 2018 budget to bring the annual spend to €3.4 million this year."
New Frontiers is the perfect way for early-start companies to position themselves for further HPSU supports. Over 30% of Competitive Start Fund awards go to New Frontiers alumni, with the potential then to become Enterprise Ireland clients and play an important role in the Irish business community.
After the Minister's address, Maria Gavin, Manager of the New Frontiers Programme at Enterprise Ireland, gave an overview of the day and thanked everyone involved in making the programme such a success.
"I'd like to underline the uniquesness of New Frontiers as a truly national programme, having a significant regional outreach through the IoTs enabling would-be entrepreneurs from all differing parts of the country to benefit from a professional and comprehensive educational programme.

Today is a chance to rightly celebrate and elevate New Frontiers, in addition to thanking all those who make it such a success: the New Frontiers graduates – I admire your bravery and tenacity in entering the start-up arena; the 13 Programme Managers, whose tireless work and dedication benefit all participants; the LEO staff, whose involvement is pivotal in the start-up ecosystem; and to my Enterprise Ireland colleagues – both HPSU & Regional DAs – for their collaboration and commitment to New Frontiers. All of you are invaluable!"
The morning was packed with information. There was a presentation of the HPSU Unit from Sarita Johnston, Manager of HPSU Start at Enterprise Ireland, a Q & A, and a panel discussion with previous participants. Attendees were also treated to some fascinating insights from three highly successful alumni, James McElroy (HouseMyDog), Michael O'Dwyer (SwiftComply), and Ross O'Dwyer (Pundit Arena).
Download the slides from the various presentations
Collaboration and networking
Feedback from attendees was extremely enthusiastic. Everyone agreed that the opportunity to meet with the wider New Frontiers community was invaluable, and the afternoon's pre-booked networking sessions proved very fruitful.
Many entrepreneurs disclose that isolation is one of the key limiting factors when building their business in the early days. A programme such as New Frontiers helps to beat this phenomenon with its collaborative approach, incubation facilities, group training events and access to mentoring. Events such as the annual networking event are the cherry on the top!
If you have a business idea and are interested in applying to New Frontiers, discover more here!
Discover a few of the entrepreneurs from the class of 2017!
Vicki O'Donnell – Wilder Wander
Joe Fernandez – Data Origami
Charlotte Matabaro – Mohecan Male Grooming
Mel Clohosey – Socialfeedia
Carol Ann McGowan – Heartstone
Joe Perrott – Remote Signals