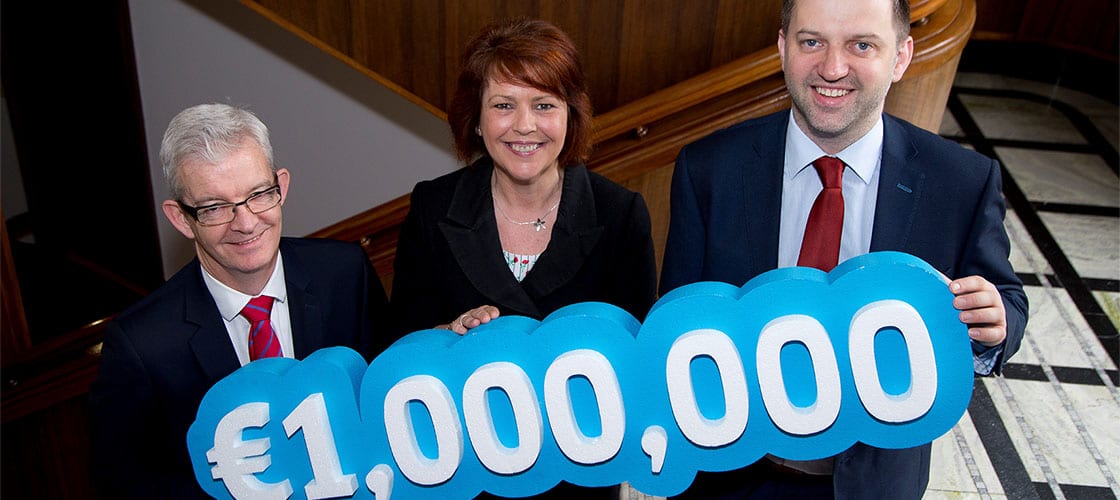 If you're a New Frontiers startup in manufacturing or internationally traded services including internet, games, apps, mobile, SaaS, cloud computing, enterprise software, lifesciences, food, cleantech and industrial products, then the latest call for Competitive Start Fund applications could be the funding opportunity you were looking for!
What is on offer?
A total of €1.5 million in startup funding will be available from Enterprise Ireland when two Competitive Start Funds (CSF) open for applications on Wednesday 21 June 2017.
Up to 30 successful applicants will receive high-level business development support and an investment of up to €50,000 each through the Regional Entrepreneurship and Fintech CSFs.
Startups located outside of County Dublin are invited to apply to the €1m Regional Entrepreneurship CSF – this fund is also open to participants of the New Frontiers Phase 2 programme nationwide. Applications to the €500k Fintech CSF will be accepted from early-stage companies offering a Financial Technology (Fintech) product or service.
What can CSF do for you?
Enterprise Ireland's CSF is designed to accelerate the growth of startups and enable companies to reach key commercial and technical milestones. The goal of CSF is to provide support for companies that have the capability to become High Potential StartUps (HPSUs). What defines an HPSU? The potential to develop an innovative product or service for sale on international markets and the potential to create 10 jobs and €1 million in sales within 3 to 4 years of starting up.
At the time of the call's launch, the then Minister for Jobs, Enterprise and Innovation, Mary Mitchell O'Connor TD, said:
"The launch of Enterprise Ireland's Regional Entrepreneurship and Fintech CSFs, amounting to a total of €1.5 million in funding, will provide valuable financial and business support to early-stage companies who have global ambition for their businesses. Companies based outside of Dublin who successfully apply for the Regional Entrepreneurship CSF will avail of critical early-stage funding and support for their businesses, while the Fintech CSF aims to stimulate start-up activity in the Fintech sector as part of the IFS2020 Strategy."
The funds are open to companies active in manufacturing and internationally traded services including internet, games, apps, mobile, SaaS, cloud computing, enterprise software, lifesciences, food, cleantech and industrial products.
Joe Healy, Divisional Manager – High Potential Start-Ups, Enterprise Ireland said:
"Ireland is a hub for Fintech innovation and a key focus of Enterprise Ireland is to encourage and support more entrepreneurs through the Fintech CSF in the areas of Payments, Banking, RegTech, Security, and InsurTech as well as Fintech solutions that leverage Blockchain, IoT, AI and Data Intelligence technologies. Up to 10 companies will receive up to €50k each through this fund and we are also delighted to announce that this year's Fintech CSF will be accompanied by a programme of tailored business development supports and incubation space in partnership with Bank of Ireland's innovation team."
What is new this time around?
Good news for applicants outside of County Dublin
Joe Healy continued,  "For the first time, up to 20 companies outside of County Dublin may be approved up to €50k each through Enterprise Ireland's largest ever Regional Entrepreneurship CSF, valued at up to €1 million. It's also the first time that we are specifically targeting participants of the New Frontiers Phase 2 programme."
This call is open to anyone who has participated in Phase 2 of the New Frontiers Entrepreneur Development Programme at some point in the past 3 years.
Access to a new incubation startlab at Bank of Ireland
David Tighe, Head of Innovation at Bank of Ireland says:
"Bank of Ireland are delighted to provide incubation space to this year's Enterprise Ireland Fintech CSF, our new startlab based in Camden Street will incubate these high potential startups and alongside desk space also provide access to a full range of tailored business supports including mentorship and support from our dedicated Innovation and Enterprise team. We look forward to welcoming the Fintech CSF companies to Camden Street as we continue to support the innovative and thriving fintech and start-up community today in Ireland."
How to apply
Applications open on Wednesday 21 June 2017. In addition to written online applications, companies will be asked to prepare an online video pitch. Companies must meet certain eligibility criteria and applicants may apply for either the Regional Entrepreneurship or Fintech CSF, but not both.
Both competitions will close at 3pm on Wednesday 5 July 2017. If you're interested in applying, take a look at our previous article, Making a successful Competitive Start Fund (CSF) application, which explains the marking system and has a variety of additional tips and resources.
The Enterprise Ireland website also has some great CSF case studies and videos with entrepreneurs who have previously received funding.