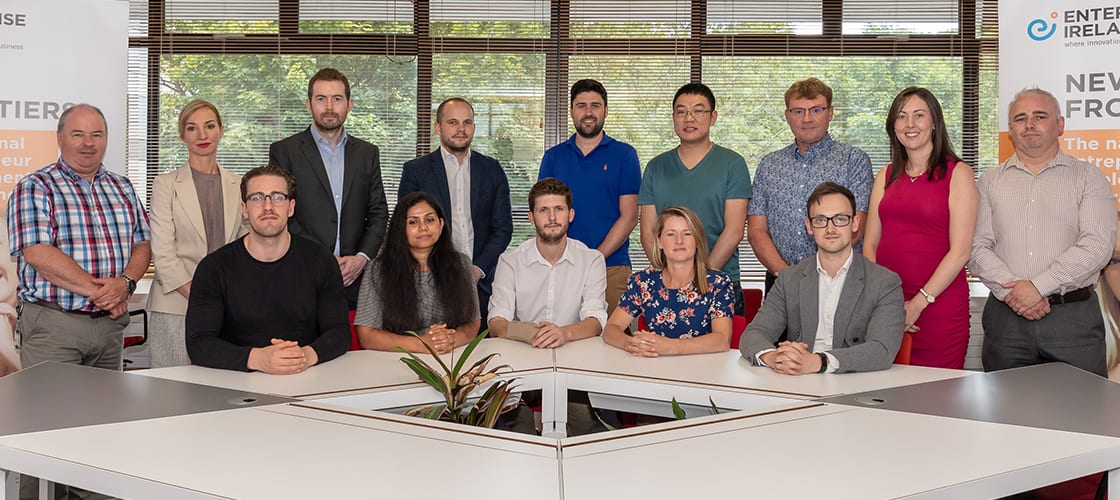 In early December 2018, we held a showcase for the 13 graduates of our most recent New Frontiers Phase 2 programme. Showcase Day, as the name suggests, is an opportunity for the entrepreneurs to present their businesses to an invited audience and also marked the completion of the Synergy 2018 Phase 2 programme.
To add to the excitement and get the adrenaline flowing, the morning kicked off early with a closed pitch competition to an independent panel for two prizes with a combined value of €12,000. These prizes were kindly sponsored by Philip Lee and AIB. After the pitch competition was completed, and while the panel was still deliberating on the prize winners, the participants attended their stands and started explaining their businesses to the visiting guests. While the day is very much about recognising and celebrating the progress made over the six months, it is also a valuable sales practice exercise: you just need to figure out is the guest a potential customer, supplier, investor or a valuable networking contact? Successful entrepreneurs are very rarely off duty.
Pitch winners – Oisin Hurley and Mark Baldwin
Congratulations to Oisin Hurley of Talk2MeMore and Mark Baldwin of SchooVR (formerly Globopod) who were the prize winners on the day. I was relieved not to be involved in the prize deliberations as in fairness to all who presented, they set such a high standard that the panel had real difficulty in choosing their prize winners.
Most Phase 2 participants come from a mix of graduates from our Phase 1 programmes and those of the other institutes, along with some direct applicants. This year's cohort had an unusually high percentage of graduates from the Tallaght & Blanchardstown Phase 1 programmes, which meant we have had the opportunity to observe their progress from the very early concepts at the start of Phase 1 through to being actively selling (for most of them) at the end of Phase 2. As Programme Managers, it is very rewarding to see this progression. However, we also know that this is still very much just the start of the journey and significant challenges lie ahead of them on a variety of fronts including building their teams, securing additional investment and crucially, growing their sales.
New Frontiers Phase 2
Phase 2 provides a uniquely supportive environment for entrepreneurs. They have some financial stability to allow them to focus exclusively on refining and developing their idea, combined with peer-led and instructor-led learning across a range of business-related topics and skills. The incubation centres also offer hot-desk space to work from in a collaborative environment. But it is not stress-free, and there are obligations such as attendance at workshops and submission of deliverables (e.g. business plans), and achieving progress to agreed goals. Often as the programme progresses this may seem a heavy burden on top of the usual challenges of building a business. This is also part of the conditioning process for aspiring entrepreneurs: improving their prioritisation, planning and multitasking skills while managing wellbeing in a 40+ hour week! Winging it is not a sustainable option when you have employees relying on your skills as CEO to ensure they receive the regular salaries on which they depend.
Once the showcase day is over and due to its proximity to the Christmas period, an eerie calm descends on the Synergy Centre and particularly New Frontiers and a feeling akin to empty nest syndrome is tangible. However, as the first applications for the 2019 Phase 1 programme begin to arrive this quickly changes to anticipation at the prospect of a fresh batch of aspiring entrepreneurs with innovative ideas.
The Synergy Centre 2018 New Frontiers cohort
Aoife Hanna – BeNutritionWise: Online programmes for sufferers of diet-related gastrointestinal diseases: www.benutritionwise.com
Brendan O'Neill – Leeg: League Management Platform for sports organisations & players: leeg-web.com
Jenny McGrath – The Present Box: Innovative Play for parent & child: www.thepresentbox.com
John Byrne – Cyber Plus Solutions: Comprehensive Cyber Risk Management Solution for SME's: www.cyberplussolutions.com
Lorcan McNeela – Eatstro: Gourmet meal kit subscription service: eatstro.com
Magda Rzepkowska – Beta Inventions: Innovative portable sanitation solutions for high rise construction.
Mark Baldwin – Globopod: VR based Educational content providers. globopod.ie
Mark Kirwan – HaraData: Contextual Business Information Search: haradata.com
Oisin Hurley – Talk2MeMore: Child language development assessment solutions: talk2memore.com
Rakhi Gupta – Viztronics Smart Solutions: High accuracy 3D sensors for industrial inspection, automation & robotics: viztronics.com
Rob Walsh – Group Local: Online platform for local bars & restaurants to sell group specials online: www.grouplocal.ie
Shane O'Sullivan – OSBPP: Real-time demographic analytics & ad serving: interactiveadvertising.ie
Zizhou Liu – Telecam Labs: AI-based diabetic retinopathy screening solution: www.telecamlabs.com
Photos of the Showcase Day
About the author
David McDonnell
David McDonnell is New Frontiers Programme Manager at IT Tallaght. He has 30 years' experience working in SME and multinational technology companies, where he held various senior management roles with responsibilities in product development, supply chain operations, customer support and business development.