The art of persuasion: pitch lessons from the DIT/IADT awards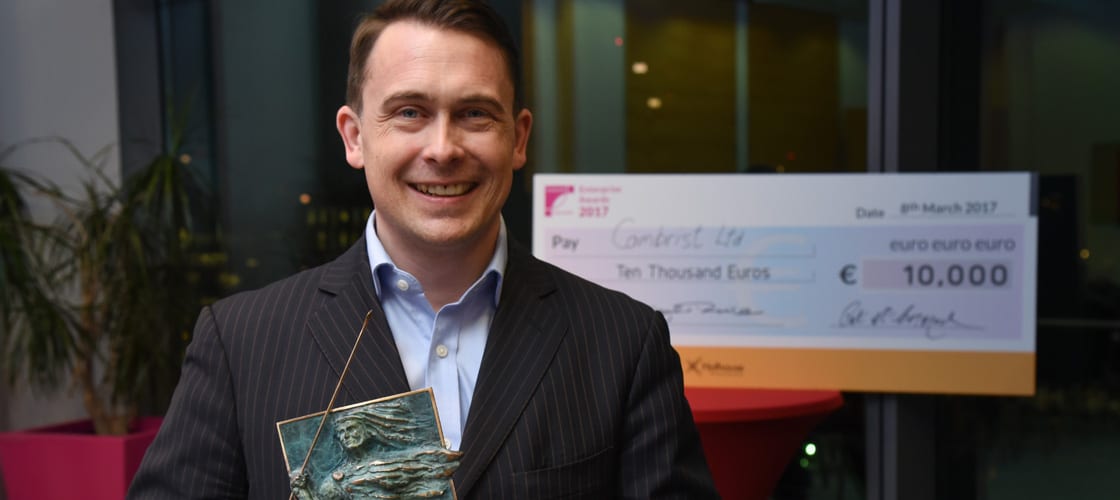 Diamonds, foreign exchange and property – not the easiest topics to convey in a pitch battle in front of an audience of 100 top VCs and other VIPs. So, how did our alumni do in making their business case and who scooped the all-important €10,000 prize money?
This year's PwC Docklands Enterprise Award was won by Jacob Claflin of Cambrist, a fintech start-up from our recent Phase 2 New Frontiers Programme – and a top pitcher. He was presented his award by the Minister for Employment & Small Business, Pat Breen TD, and PwC's Managing Partner, Fergal O'Rourke.
The runners-up were Jonathan Eves of Eco-nomic Innovations, a diamond mining start-up, and Lucinda Kelly of Popertee, a pop-up shop platform. Each had 12 minutes to pitch, following by 8 minutes of tough questioning.
Pitching your startup
All the startups had been given pitch training beforehand to help them perfect the substance of their idea in a concise, stylish and engaging way. So how did they do it?
To borrow a phrase from our pitch coach, Padraig Hyland, it's all about the art of persuasion. This boils down to the three key acts of a great pitch – show purpose, elicit emotion and make sense – all held together by a compelling story.
The common story for each was their individual experience in seeing and solving a product / market fit. For Jonathan, this was from his experience working at a famous diamond mine in South Africa, Jacob's was working across a dozen countries in all things FX and Lucinda's in working in marketing for top firms, like PaddyPower and Eir.
The panel they aimed to impress was led by Michael Murphy (Investec Ventures & IVCA), Sharon McCooey (LinkedIn Ireland), Stephen McIntyre (Frontline Ventures) and Kevin O'Loughlin (Nostra Systems).
Michael Murphy, Chairman of the Panel commented:
The Judges were delighted to see three innovative and scaleable projects with global potential being showcased by these awards. It's a tribute to the entrepreneurial spirit in Ireland and the effectiveness of the focused support available to startups.
The Awards are now in their 15th year and are an initiative of Bolton Trust, which celebrates its 30th anniversary this year, as well as DIT Hothouse / IADT.
Last year's winner, Your Smile Direct, also an alumnus of the programme, went on to raise seed funding of €1.3 million and now employs 15 people in Ireland. In total, alumni of New Frontiers at DIT / IADT have created over 130 businesses, comprising 500 jobs and attracted over €12.5 million in external investment.
The PwC Docklands Enterprise Award
During the award ceremony, Feargal O'Rourke, Managing Partner at PwC, said:
As a small open economy, it is fantastic to see that all of these projects are export led by entrepreneurs who are seeking to commercialise their opportunities internationally. And with global CEOs recently telling us that technology will completely reshape their industries over the next five years, it is interesting that all of the projects are new technologies in development.
They are great examples of leading edge innovation and superb talent, both critical factors for success. It is very important to support our young entrepreneurs, who are leading innovators, who will create jobs and play a key role in our economy's continued growth. Supporting innovation and young entrepreneurs is exactly what these Awards are all about and which PwC is delighted to be part of. We wish all the candidates every success.
Docklands Innovation – a Bolton Trust initiative – was established in 1987 at the height of Ireland's 'brain drain' to promote an enterprise culture and to offer young entrepreneurs an opportunity to develop their business ideas in Ireland. This year, the Bolton Trust celebrates its 30th Anniversary. It remains committed to helping the growth of indigenous Irish enterprises and fostering entrepreneurship 
Chairman Pat McCormack commented:
In a changing environment it is more important than ever to have strategic investment in young innovative companies who can provide employment opportunities for our economy. This year's finalists have been selected from a cohort of fifteen excellent applicants all representing real opportunities with global potential for investment. Coming from a variety of sectors with new technologies all are seeking to scale and expand quickly into global markets.
The three finalists
Jacob Claflin, Founder & CEO, Cambrist Ltd
Over €160 billion is spent annually in cross-border card payments in Europe alone. However, the retail banks that issue payment cards are excluded from the primary FX associated with their customers' international payments. Visa, MasterCard and other card associations dominate card payment FX as a captured market. Cambrist's multi-currency cloud processing solution enables banks to easily control and optimise their card payment FX rates.
Cambrist facilitates real-time foreign currency processing with industry leading market-makers. Cambrist's technology is a flexible, cloud based FX management platform designed to integrate with issuers and processors in a very light-touch manner, minimising the efforts of our partners. Cambrist was founded in 2016 by Jacob Claflin, Blake Newman and Victor Mikhailov, each of whom spent the previous 15+ years in the financial services and payments processing industries. Cambrist is a recent graduate of the DIT /IADT New Frontiers programme and recently joined the 2017 class of the Accenture FinTech Innovation Lab in Dublin. The company's platform entered beta testing in late 2016 and is currently being implemented with a leading Irish prepaid card issuance firm and has multiple retail banks in Ireland, the UK and Central Europe in late stage pilot evaluations.
Before founding Cambrist, Jacob Claflin lead the European operations of Rêv Worldwide (Dublin) from 2008 until Oct 2015. During his time at Rêv, Jacob expanded the company's prepaid card programs & operations into the UK, Spain, Lithuania, Romania and much of Scandinavia. Prior to Rêv, Jacob spent over a decade with Euronet Worldwide (NASDQ: EEFT) in a variety of executive functions in the US and Europe in a variety of senior executive business development and product related roles. Jacob has a BA (Hons) from the University of Chicago.
Jonathan Eves, Co-founder, Eco-nomic Innovations Ltd
In the mining industry, the need to separate valuable minerals from the many millions of tonnes of rocks brought to the surface is often best served by density separation. For example diamonds are denser than the rock they are found in. The density separation process is conducted in Dense Medium Cyclones, technology developed during WW II that unfortunately suffers from high reagent consumption and, in some applications, is so inefficient that 40% of the valuable minerals brought to the surface ends up as waste. In a world where resources are becoming increasingly scarce, this is unacceptable.
Our SpecSep™ product improves valuable mineral recovery in the Dense Medium process, while reducing reagent consumption by approximately 60%. The technology was proved at UCD, and Eco-nomic Innovations Ltd. was formed in July 2016 to hold the international patent applications and commercialise SpecSep™ technology. A large multinational mining equipment supplier is currently putting plans in place to test the technology in South Africa on a commercial scale because they believe improvements in the Dense Medium process are long overdue.
Co-founders Jonathan and Helen Eves have 30 years experience in the mining industry in South Africa and Ireland and together introduced a new mining process to Anglo American PLC called column flotation, a mining process Anglo American PLC implemented later at their Lisheen Mine in Co. Tipperary. Jonathan is a recent graduate of the DIT/IADT New Frontiers programme. He studied engineering at UCD and has a Masters in Chemical Engineering from the University of Witwatersrand in Johannesburg.
Lucinda Kelly, Founder & CEO, Popertee Ltd
Popertee was established in early 2016 in Dublin. The product/market fit was developed through the DIT/IADT New Frontiers programme. Popertee is an online platform that connects marketing agencies and brands with vacant spaces, enabling them to gain access to unique and high footfall spaces quickly and cost effectively. Based on a deep understanding of the early customer base they grew, Popertee identified an even bigger problem that could be solved through data and artificial intelligence. They are now building the world's first AI platform that connects the perfect audience with the perfect location, enabling brands to find their optimum short term retail or marketing space.
Popertee gained traction in the Irish market very quickly with early customers including Peroni, Sony Playstation, the British Embassy and Boohoo.com. Popertee was runner-up in the 2016 AIB Start-Up Academy, is a HPSU client of Enterprise Ireland and is currently on the Google Adopt A Start-Up programme. The company is based in the Digital Hub and is also a graduate of the NDRC Launchpad programme. Their seed round has opened with funds being used to build out the full technology and IP for the platform and take the business to new markets.
Lucinda Kelly previously held senior product and marketing roles in Eircom and Paddy Power Plc. Lucinda has always been passionate about setting up her own business and after her degree at UCD studying Information Studies and French, she studied Entrepreneurship in the Smurfit Business School.