New Frontiers alumni find success in the Dragons' Den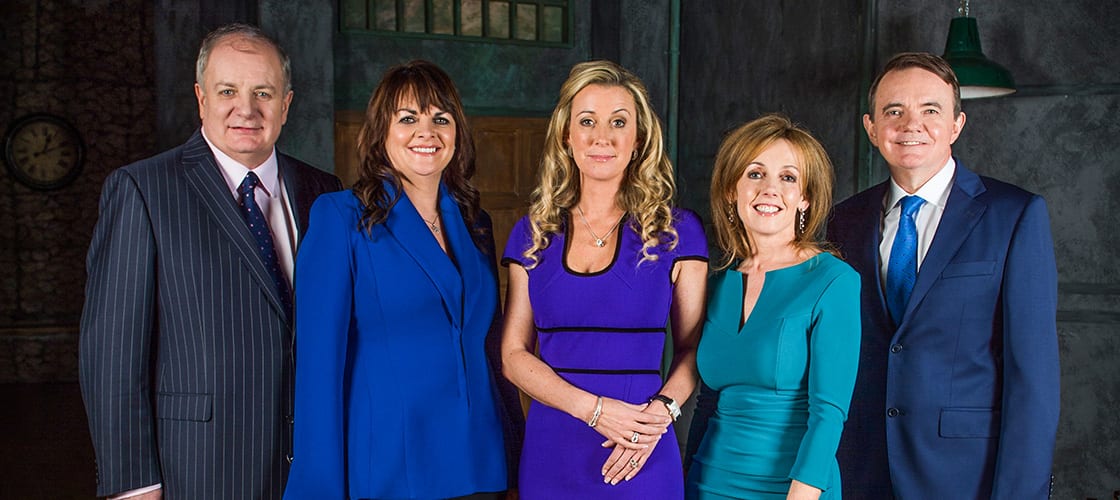 Some fantastic New Frontiers startups have appeared on RTE One's Dragons' Den. The programme is addictive viewing for anyone interested in entrepreneurship, investment and business, with founders from every industry squaring up to face the Dragons' tough questions.
We decided to catch up with two alumni who secured investment during the latest season of Dragons' Den. What made them step into the Den? What's it like to pitch to such a formidable panel? What, if anything, would they do differently?
Art McArdle – Heat Hero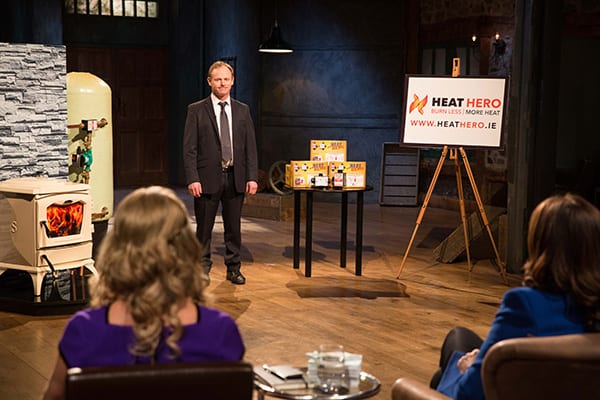 Art and Adrienne McArdle founded Heat Hero in 2015. Their product is an innovative solution to improve the efficiency of solid fuel heating systems. The manifold can be retro-fitted onto any system, and because it doesn't have any electrics or moving parts it requires no future maintenance.
Art is the technical know-how behind Heat Hero, while Adrienne runs the day-to-day of the business. They had originally applied to Dragons' Den in 2016, but as it was quite early in their startup journey, they didn't get through the application process.
They joined the New Frontiers programme at Dundalk Institute of Technology, and used an Innovation Voucher from Enterprise Ireland to carry out further research into the product. They were teamed up with a mentor to help them develop the business, and Heat Hero went on to win a Best Innovative Product Award at the SEAI's Energy Show 2016.
The next step was to get their product tested and approved. This testing was carried out by independent UK experts, Kiwa Gastech, and Heat Hero was awarded its safety certificate. The solid fuel body, HETAS, now lists Heat Hero as an approved product (in both the UK and Ireland). Art and Adrienne took all the critical steps needed to corroborate the effect of the Heat Hero on a solid fuel system – it has now been proven to improve the efficiency of a solid fuel heating system by up to 30%.
With this validation in place, Art and Adrienne reapplied to Dragons' Den. With their product now stocked in 100 stores around the country, they had the sales and feedback they needed to prove the viability of their business. There are 300,000 solid fuel stoves in Ireland alone. With the backing of a Dragon – the investment they bring, but also their experience and networks – the market potential is huge.
"The Dragons' Den team are very hands-on, they really help you prepare and they get you ready for the pitch in every way. They talk you through your messaging, the approach you'll take once you're out there, how you will demonstrate your product. They also have a pitch coach to help you get word-perfect."
As Art was going to be the one to pitch, Adrienne coached him relentlessly on the minutiae of the company's financials, popping random questions at him out of the blue so that he was ready for anything.
"We practiced the pitch in different venues, with different audiences, and with a camera too. I told people to ask me anything, and not to hold their punches. Then two days before shooting, I stopped practicing completely and let myself relax about the pitch, so that I didn't arrive too stressed out."
What viewers may not realise is that interviews with the Dragons can sometimes go on for an hour and a half, far longer than the short scenes we see in the final programme. Every aspect of the business is covered; the Dragons ask all kinds of questions before coming to their decision of whether or not to invest.
"By the time you walk out in front of the Dragons, you're so outside of what a normal day feels like that you almost get what I would call a second wind. You're really nervous, but you've come so far that you know you can't let the nerves get the better of you. I knew I only had one shot, and that was it!
The Dragons started firing their questions at me, but once I was through the initial pitch I felt a lot more relaxed about answering them. I'd learnt my financials by heart, and wasn't worried about answering any technical questions. I was a bit thrown when Gavin asked me specifically about sales numbers from February, and I had to dig deep to remember what the figure was!"
The Dragons were very impressed with Art's pitch, with Gavin Duffy saying, "The potential is limitless."
Art was one of those lucky entrepreneurs who gets competing bids for investment: an offer of €60,000 for 32% from Eleanor McEvoy and €60,000 for 30% from Gavin. He asked the Dragons if they would consider investing together, but that idea didn't appeal to Eleanor… after some consideration, Art chose to accept Eleanor's offer, even though she wanted a slightly higher percentage.
"Gavin and Eleanor were the two Dragons I had in mind when I went in. I would have been very happy with Gavin and I know that he would have been 100% behind the product. But at the same time Eleanor had all the contacts in the energy sector. You couldn't ignore that."
What came across during Art's pitch was the simplicity of his solution and the pains he had taken to prove its effectiveness. It was obvious that his open and friendly manner had endeared him to the whole panel, as summed up at the end by Alison Cowzer after he had left the room, "What a promoter! What an honest, authentic guy. You've got a really good business partner there, Eleanor."
Participants can't publicise their appearance until two weeks before the programme airs, but once the embargo is lifted, a canny entrepreneur can maximise the publicity generated by an appearance on a prime weekend TV slot. During those two weeks, Art and Adrienne spoke to as many contacts and prospects as they could, and got in touch with local newspapers and radio stations.
"The media coverage and the feedback we've had has been fantastic. Dragons' Den has been an amazing platform for our business; the phone and email haven't stopped! I know of lots of people who threw their stove out because it just wasn't performing the way they expected it to. Now that so many more people know about Heat Hero, that won't happen anymore."
The next steps for Art and Adrienne will be to look at working directly with County Councils to install the Heat Hero at the same time as the heating system goes in, as well as extending their retail network in Ireland and pushing into the UK market. They also have a new product coming out that will make wood systems work better, which is an important development because so many people would prefer to use a sustainable fuel like wood instead of fuels such as coal.
"I just can't believe the response we've had, I'm so happy we went on the programme. Heat Hero is the future for all boiler stoves… it's out there now and this was just the stepping stone we needed!"
Olive O'Connor – MediStori

The MediStori is an organiser that allows patients or their carers to keep all their health information in one place. It's a paper-based system that takes the stress out of managing an illness or health condition – you can keep hospital correspondence, notes, prescriptions, appointments, medical cards, and health records in an easy-to-reference booklet that never needs recharging!
Olive's three children suffered from acute illnesses when they were young, and Olive herself has an ongoing health condition. It was as a result of having to manage multiple health and medication regimes within the family that she developed a notebook system that eventually became the MediStori health organiser.
With help from New Frontiers, HSE backing, and extensive research with patients, carers and health professionals, Olive designed a family health manager suitable for monitoring all types of chronic illness, or even just keeping track of a new-born's development. In January this year, Olive decided it was time to take her business to the next level. She had signed a big supply contract and cash flow was going to be an important part of making sure her business was sustainable.
Olive researched a few investment options and decided to send an application to Dragons' Den. She met with the producers, who took her through the financials of the business and the other elements required. She was accepted to go forward to the show, and went through the second application phase. However, no part of the process is shared with the Dragons, they know nothing about the business until they meet the entrepreneur in front of the cameras.
Appearing on the show involves a long day at the studio. It's not just your pitch you have to worry about – there are pre interviews and post interviews too, plus the obligatory trip to hair and makeup! Pitch coach, Catherine Moonan, is on hand to help the promoters refine their pitch and prepare for the Dragons' questions.
"Overall, it's a really lovely and worthwhile experience. Everyone does their best to put you at ease and address any concerns you have. They also set up your product demonstration for you, so you don't have the added stress of having to do that."
Olive prepared for the Den with two mentors, Attracta Burke and Donncha Hughes, and met with an entrepreneur who had successfully been through the Den experience. She rehearsed her pitch with friends, but also told them to ask her all the tough questions they could think of to prepare her for any curveballs that might come her way.
"I've done lots of public speaking, so I'm used to being on a stage. The difference this time was that I didn't have my usual PowerPoint to guide me, which made it harder to get my timing right and remember what I wanted to say. I practiced a lot in the two weeks leading up to filming, always focusing on answering the key questions: problem & solution, market competitors, costing & future growth."
An important part of Olive's pitch was the story behind her startup. For some people it might be their education, or their experience in a market, whereas the reason behind Olive's startup was a deeply personal one.
"I wasn't trying to win the Dragons over because of sympathy for my personal situation. The important thing for me was to show that I knew my product inside out because I had lived through the experience of having children who were unwell. They say that investors make their decision based 80% on the promoter and 20% on the business, so it's very important that you don't forget to include yourself when telling your story."
There was a moment during Olive's pitch where confusion arose about the figures she gave for her monthly outgoings. Chanelle McCoy declared herself out based on the company's running costs being too high, but the figure Olive had given was actually for projected costs based on future growth.
"My one regret was not listening to the question properly. The problem wasn't that I didn't know my financials, but that I had answered a different question. I knew immediately I had made an error and luckily Barry picked up on it and I had the chance to put it right at that point. But it did mean I lost a potential investor. Thankfully, Chanelle, true to her word, has been a great support since the show."
Going into the Den, Olive had already identified Barry O'Sullivan and Chanelle McCoy as her ideal investors, although she would have been delighted to work with any of them. Barry offered her the full €80,000 investment, with a small royalty payable on each product until his investment is recouped. Just how hard did Olive have to think before accepting?
"The Dragons can bring you so much more than investment. They also bring their personality and values, and I knew Barry had similar ones to mine. Relationships are everything, and if you don't get on with your investor it's going to be a hard road."
The future is looking very busy for Olive. She has signed a contract with United Drug Consumer, and sales of the product soared after the show aired. MediStori will be in another 80 pharmacies by the end of the month, which is twice as many as Olive's target. She is opening up both B2B and B2C opportunities for the business, and has been careful to ensure her PR and marketing strategy is positioned to benefit from the amazing exposure that TV and radio appearances bring (she was also on the Ryan Tubridy show the following day, and then the Today Show with Maura and Dáithí later that week).
One unexpected result of appearing in the Den was the huge volume of traffic that the MediStori website got. There were 10,000 visitors in the 24 hours after the show aired, with another 15,000 checking the site during that week. The website couldn't cope with the traffic and went down, which meant Olive had to very quickly connect with anyone and everyone who might be trying to get in touch or purchase a product. She sent out personal emails to all her contacts, and kept everyone in the loop on social media with regular updates.
"It's so important to not be afraid to say that something's gone wrong. As long as you explain why it's happened, people won't worry. We didn't get any negative feedback at all, even though the site was offline for a good while."
Another smart thing Olive did was get lots of momentum going in the lead-up to the programme, reaching out to all her contacts to let them know she would be on Dragons' Den and sharing the relevant Twitter hashtags. She got a lot of response on social media, with 22% of the company's sales that weekend coming from Twitter.
"It was interesting to see the kind of connectivity we got. I've noticed in the past that some people who appear on Dragons' Den don't really interact with what people are saying to them on platforms like Twitter. I personally responded to everybody, whether they had positive or negative feedback, and thanked people for their comments. People buy from people, if you get an opportunity like Dragons' Den, you have to use it. Don't underestimate the power of social media!"
Are you thinking of stepping into the Den?
Quite a few New Frontiers participants have appeared on Dragons' Den over the years, and a number of them have been successful in raising investment. This year saw Sarah Kiely, founder of Sadie's Kitchen, win over Alison Cowzer in Episode 2, for an investment of €50,000. Evan and Gerard Talty appeared in Episode 7, and secured investment from Alison for their startup, Wild Irish Seaweed. Noreen Doyle, of the Irish Biltong Company, was also offered investment earlier in the season, but chose not to accept the Dragon's offer.
If you're thinking of stepping into the Den, the consensus is definitely: GO FOR IT! Even if you don't win the investment you were hoping for, it's an invaluable experience and will prepare you for future pitching opportunities. The process of going through your financials and business proposition is very useful, too; it will help you to firm up your business plan and get feedback from experienced business people which could lead to a pivot or new opportunities you had never even considered. And, of course, there's no such thing as bad publicity… simply appearing on the show will get you the kind of exposure that other startups can only dream of!
[Dragons' Den is made by Screentime ShinAwil for RTÉ. Featured image courtesy of Ruth Medjber – Ruthless Imagery]